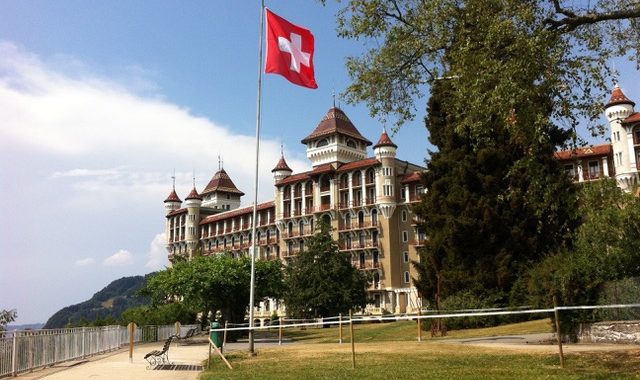 A European Journey #69 – Caux (Switzerland)
8.

A European Journey #69 – Caux (Switzerland)
Some Protestants believe that the European Union is a plot orchestrated by the Roman Catholic Church. This idea can be fed by the fact that three of the founding fathers were Roman Catholics. Nevertheless, few actually know that at the heart of it all was a Protestant evangelist named Frank Buchman.
So after three stages in which we have discovered these three fathers, Schuman, Adenauer and De Gasperi, we will explore who Buchman was. And to do so, we will go to a village called Caux in the Swiss canton of Vaud. It is located on a mountain above Montreux and offers a breath-taking view of Lake Geneva.
Starting from Montreux, we will climb along a road for 6 km with several hairpin turns. And if you are fond of cycling, like myself, it might be interesting for you to know that this is a very steep climb which continues for another 8 km after Caux, up to the Col de Jaman which peaks at 1512 metres.
In the tiny village of Caux, there is one building which stands out. It used to be a luxurious hotel called Caux-Palace, which was inaugurated in 1902. Its idyllic location attracted many celebrities in the past, such as the French actor Sacha Guitry, the Saudi prince Ibn Seoud or the American businessman John D. Rockefeller.
So what is the link between Caux-Palace and Frank Buchman? Before I answer this question, let's first discover who this man was.
Frank Buchman was born in a Lutheran family on the 4thof June 1878 in Pennsburg, Pennsylvania. In previous centuries, many German-speaking Christian dissident groups, such as the Mennonites, had found refuge in this American state. Buchman also had German-speaking ancestors, and one of them was actually the Swiss theologian Theodore Buchmann, better known as Bibliander, who succeeded Huldrych Zwingli as professor at the school of theology in Zürich.
In 1902 Buchman started working at Philadelphia as a social worker for the mentally disabled. Some years later, he quit his job after a conflict with the board members. In 1908, Buchman participated in a famous evangelical gathering known as the Keswick Convention in Northern England. There he was touched by the message of a Welsh evangelist called Jessie Penn-Lewis. Through her message, he realised that his resentment towards his former colleagues had blocked his communion with God. When he returned to the United States, he asked the board members to forgive him for his attitude towards them. This experience of repentance and forgiveness became the foundation for his future ministry.
After this Frank Buchman served with the YMCA at Penn State University. It is here that he realised that the university could be reformed if its key leaders were reached with the message of repentance and forgiveness. After having put successfully his ideas in practice at the university, Buchman became a missionary in India and in China. His conviction that reaching key leaders could reform an entire nation led him to meet influential people there, such as Sun Yat-sen. Sadly, tensions with other missionaries forced him to leave China in 1919.
In the 1920s, Frank Buchman held regular lunches at Oxford and many experienced the same transformation he had first experienced at Keswick. The movement, later called The Oxford Group, grew rapidly. Soon other similar groups were created, especially in Germany, where the authorities began to see the movement as a threat to Nazism.
And this is where we return to Caux-Palace.
At the eve of World War II, some members of the Oxford Group realised that the nations of the world needed to be morally re-armed. Buchman agreed and renamed the Oxford Group Moral Re-Armament (MRA). Some years earlier, Caux-Palace had gone bankrupt. A group of Swiss Christian families joined together to buy the abandoned palace to turn it into a conference centre for the MRA. When Buchman saw the palace, he understood that this idyllic location would indeed be an ideal place for world leaders to gather, hear their message and be reconciled with their enemies. And indeed, after the war, Caux saw many influential people visiting it from all over the world.
This brings us to the important role that Frank Buchman played behind the birth of the European Union.
After World War II Robert Schuman, who was now the French minister of foreign affairs, sought a way to rebuild Europe upon the Christian principles of forgiveness and reconciliation. Schuman knew that this would not be possible without reconciliation between the Germans and the French. This, however, was not a simple task in a time when the French were filled with resentment towards their former invaders. Schuman met Buchman privately in 1947. When talking about the need for reconciliation between the two nations, Schuman confessed that he didn't know who to trust in this new Germany. Buchman answered that many trustworthy Germans had participated in the Caux meetings, among them the Chancellor Konrad Adenauer. The German statesman had even invited MRA teams to spread their message all across Germany. Through their ministry, a wave of repentance and forgiveness had begun to spread across the country.
Frank Buchman greatly helped to establish an atmosphere of trust between Adenauer and Schuman. Without this, the economic plan presented by Robert Schuman, and agreed to by Konrad Adenauer seventy years ago, would have been impossible. It was this step of Christian forgiveness and reconciliation that has allowed Western Europe to experience the longest period of peace in known history.
See you new week somewhere else in Europe.
Schuman Centre convener for Italian and French Europe
Follow A European Journey here.
Picture: source: Jeff Fountain