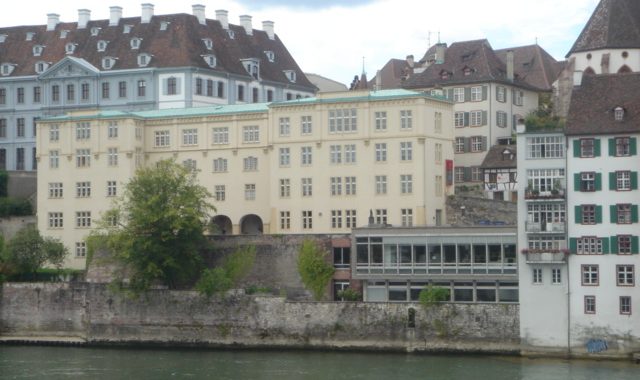 A European Journey #43 – Basel (Switzerland)
5.

A European Journey #43 – Basel (Switzerland)
This is the third stage of a miniseries dedicated to the five hundred years of the Swiss Reformation. We are looking in particular at the life of Huldrych Zwingli, the central figure who triggered the Reformation.
During our last stage, we stopped in Glarus to explore how he lived as a priest until the French invasion forced him to flee to a lonely area in 1516.
Before exploring what happened there, I would like to first visit Basel in Northern Switzerland, because it was a key location in Zwingli's life. Basel is one of the most important cities of the country, and it is located along the Rhine, near the borders with Germany and France.
For this stage, we will visit the old town of Basel, which is located on the left bank of the Rhine. There we can see several buildings dating back to Medieval times. But for this episode, we will enter a narrow street called Rheinsprung, just near the Mittlere Brücke (Middle Bridge). Only fifty metres down the road, we discover two buildings of particular importance facing each other: on the right side there is the Martinkirche and on the left the Old University of Basel.
This building overlooking the Rhine is actually the oldest university of Switzerland, and was founded at the order of a papal bull on the 4thof April 1460. Several prominent people studied here, such as the two mathematicians Leonhard Euler and Daniel Bernoulli, the physician Paracelsius, the philosopher Friedrich Nietzsche, the theologian Karl Barth, and of course, Huldrych Zwingli.
Sometimes there is a tendency, especially in Protestant circles, to believe that reformers stood alone in their convictions. While they did indeed take a bold stand, they didn't act alone but were rather part of a broader movement of many people, some who became famous and others not. As the Bible says, 'Plans fail for lack of counsel, but with many advisers they succeed' (Proverbs 15:22), and this principle was part of the success of the Reformation. Huldrych Zwingli was not alone. And Basel seems to be the best place to find out more about his network of friends, which is why we are here.
In our first episode, we discovered that Huldrych Zwingli had already lived in Basel twice, first at a boarding school as a child, and later as a school teacher and a student at the Faculty of Theology. It was also during this second period that he met Thomas Wyttenbach whose preaching deeply affected him.
But Zwingli returned to Basel a third time in 1514. The main reason for his visit was that one of the most famous scholars of Europe, Erasmus of Rotterdam, had just arrived at the university.
At this time, Erasmus was working on his opus magnum, the parallel translation of the New Testament in Greek and Latin. His work was published here in Basel in 1516 and deeply influenced the Reformation in Europe. When Erasmus arrived in Basel, he was received with the highest honours. But he had also heard about Zwingli and was impressed with his work. He wrote a letter of congratulations to the priest of Glarus: "You are doing your best to civilize and ennoble (the Swiss society), by studies and moral conduct alike worthy of admiration". Zwingli, who found inspiration in Erasmus, journeyed to Basel where he could meet with him face to face. The time spent with Erasmus encouraged Zwingli to continue his efforts towards a Reformation.
During this season in Basel Zwingli also met other people who became highly instrumental in the Swiss Reformation. Let me mention two of them:
The first one was Oswald Myconius (Oswald Geisshüsler in German). Born in Luzern, Myconius studied in Rottweil (today in Germany but then part of the Swiss Confederation), Bern and finally Basel where he became a school rector, first at St. Theodore and then St. Peter. Myconius agreed with Zwingli's views and message, and followed him to Zürich. After the death of Zwingli, Myconius returned here, to Basel, where he wrote his most important work, the Confession of Basel.
The second person was a German man called Johannes Hussgen. But he was not known as Hussgen. At the time it was common to translate last names into Greek. So since Hussgen meant 'house-shine', Johannes translated his last name into 'light of the house', that is Oecolampadius. Born in Bavaria, Oecolampadius studied law in Bologna before coming to Basel to study theology. Here he befriended Zwingli and became the assistant of Erasmus. The latter offered him a rare gift in his time: the first four chapters of the Gospel of John. Oecolampadius ministered in the Martinkirche in front of the university. And thanks to his education, he successfully defended Reformed views in theological disputations in the city. As a result, he became highly instrumental in the adoption of the Reformation in Basel some years later.
I lack time and space to mention other names. But Zwingli's network of wise and faithful friends were certainly part of the key behind the success of the Swiss Reformation.
See you next week somewhere else in Europe.
Cédric Placentino
Schuman Centre convener for Italian and French Europe
Follow A European Journey here.
Picture: Old University of Basel (public domain)