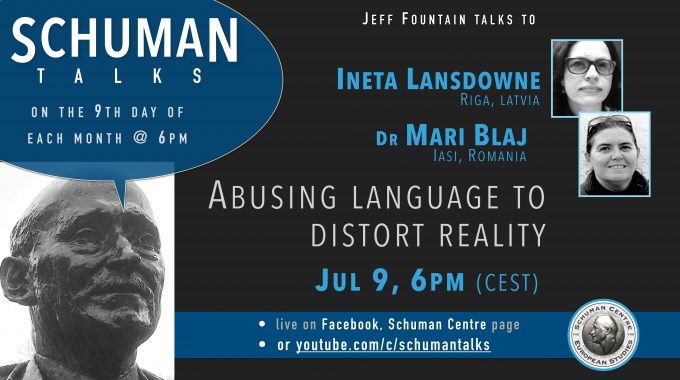 Schuman Talk (Episode 22) – Marinela Blaj & Ineta Lansdowne
Join us on Saturday, July 9, at 6PM (CET) with Jeff Fountain and guests Marinela Blaj (Iasi, Romania) and Ineta Lansdowne (Riga, Latvia) for a new Schuman Talk on the topic of "Abusing Language to distort reality".
Post-truth politics is a political culture where true/false, honesty/lying have become a focal concern of public life. Following the Brexit vote and the 2016 US presidential elections, the Oxford Dictionary chose the term 'post-truth' as its 2016 international word of the year.
Ineta and Mari are both from post-communist societies, and Ineta worsk in the Occupation Museum in Riga. In this seminar they explore the dangers facing Europeans as influencers abuse language in ways foretold by George Orwell and exposed by Aleksandr Solzhenitsyn and Vaclav Havel. Timothy Snyder warns that 'post-truth' is 'pre-fascist' .
'Seeking shalom' in our fragmented Europe today means standing for truth against conspiracies, for which some evangelicals appear to be susceptible.
The Talk will be available on our Youtube page.