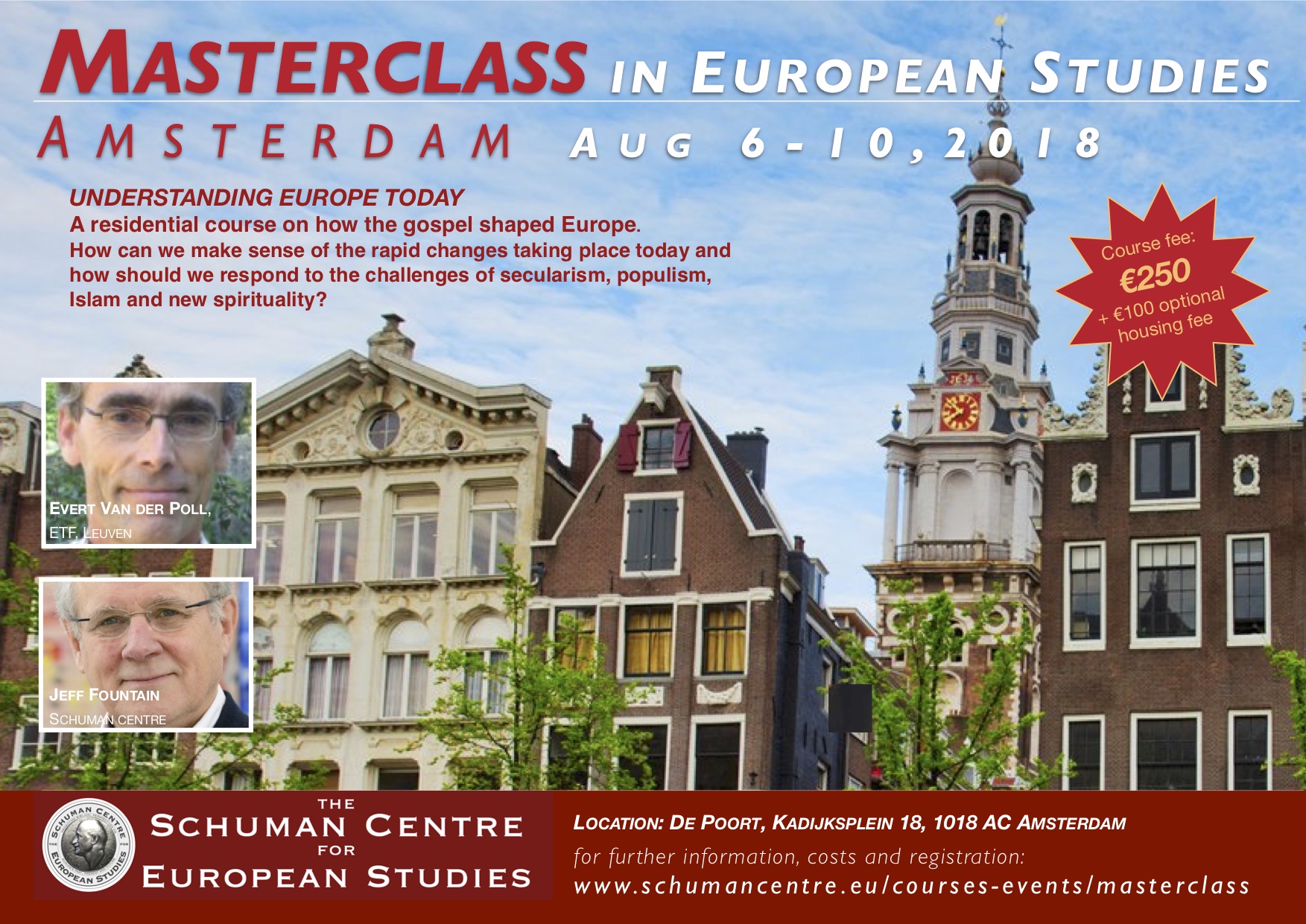 UNDERSTANDING EUROPE TODAY
This five-day residential course taught by Prof Dr Evert Van de Poll and Jeff Fountain offers insights on how the Gospel has shaped Europe and midwifed the EU, and on challenges facing us today in Europe: secularism, populism, Islam and new spirituality.
Next to lectures, videos and discussions, there will be a historical walk through the 'city of paradox', Amsterdam.
The course is sponsored by the Schuman Centre for European Studies, and can offer degree credit with extra assignments.
The course will be held in the De Poort YWAM training facility, Kadijksplein 18, 1018 AC where accommodaiotn is also available. Some activities will be held in teh upper Room at Prins Hendrikkade 50 and other city sites.
It begins Monday Aug 6, 9am and ends Friday Aug 10 with graduation dinner.
---
MORNING LECTURES BY
Dr Evert Van de Poll, Dept of Religious Studies and Missiology, ETF, Leuven, follows content from his book Europe and the Gospel which each participants will receive, included in masterclass fees.
• Cross over Europe
• The idea of Europe, past and present
• Human rights: roots, precursors and current issues
• Demography, values and religion in Europe
• National concerns and identities in Europe
• Paradox of Europe. In what sense are our societies 'post-Christian'?
• How 'Christian' is Europe still?
• Post-secular situations in East and West
AFTERNOON/EVENING LECTURES BY

Jeff Fountain, Schuman Centre, Heerde, offers seven steps towards understanding Europe today, with an overview of the story of 'faithful minorities' who shaped Europe by their faith, and particular reference to the role of Robert Schuman in the founding of the European Union. Participants receive study outlines of each lecture.Jeff will lead a historical walk through the city centre of Amsterdam demonstrating the process of secularisation over the past five centuries.
---
COURSE FEE
€250, including study resources, meals and accommodation. (€100 optional accommodation fee)
Partial scholarships are available for unsalaried missionaries.
REGISTRATION FOR MASTERCLASS 2018:
Contact: info@schumancentre.eu; tel: 06 81 488 655, Schuman Centre office
---
RECOMMENDED READING
Course participants will receive Dr Van de Poll's book, Europe and the Gospel
Other recommended titles:
---