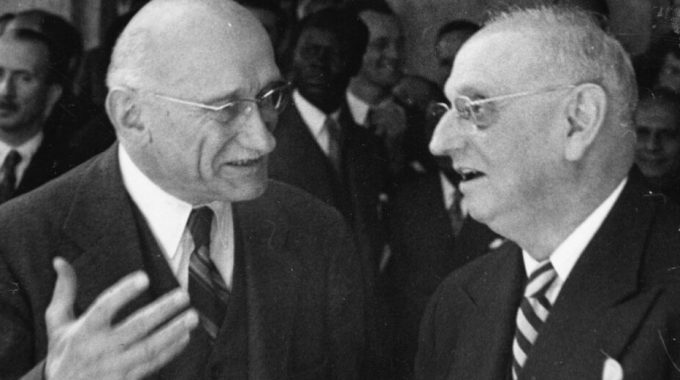 A column in de Volkskrant, a leftish Dutch newspaper, grabbed my attention this week: 'Europe must rearm itself, especially morally.'
For the first time in two generations, the term 'rearmament' is reappearing in the headlines. The shock-effect of the Russian invasion of Ukraine has been to recalibrate everything over the past month, including galvanising German resolve to pick up shared responsibility for the defence of Europe.
The use of the terms 'rearmament' and 'moral' in this column immediately brought to my mind the dynamic movement last century called Moral Rearmament. Its founder was the charismatic and influential Lutheran evangelist Frank Buchman (pictured on right above), who introduced Robert Schuman (left in photo) and Konrad Adenauer to each other, and shaped their lives with his message of forgiveness and reconciliation.
To my surprise, as I began reading the column, the writer described his 95-year old grandmother telling him of her banker-family's engagement with Buchman's movement. A sort of 'Salvation Army of the rich', he wrote, the movement attracted the likes of Frits Philips, head of the Eindhoven-based global electronics firm. It also championed French-German reconciliation and a European integration with strong moral foundations. Buchman believed the West not only needed to be strong militarily but also morally. The columnist noted Buchman's emphasis on daily 'quiet time', listening to your inner voice to hear both correction and direction.
The movement also influenced Harry Truman's observation that all western problems had their roots in 'prejudice, rivalry, apathy and greed'. Which sounded familiar, noted the columnist, 'for the war in the east was after all a logical consequence of Europe's moral shortcomings'. While Putin had made no secret of his imperialist ambition over the past twenty years, Europe had only been concerned with itself. Europe was happy to bankroll autocratic regimes and accept their dirty money building superyachts, buying football clubs and warming our houses. Meanwhile, the writer continued, we postponed essential investment in climate policy and defence.
The column's bottom line was that the 'richest and happiest among us should morally rearm and exercise quiet time: those who do everything for money, but will always deny it; those who have knowledge and skills, but choose to use them for the wrong things.'
Lament
In this Lenten season, that's worth creating quiet time to reflect on, listening to our inner voice to hear correction and direction. In those church traditions which make the most of Lent, sorrow, regret and lament are woven throughout the liturgy and the music. In this war season, it is certainly appropriate to lament, to weep with those who weep.
We lament the loss of life and limb of Ukrainian soldiers and civilians, of young Russian soldiers merciless sacrified to the gods of war, and the bereavement of all families broken by reckless barbarism.
We lament our part in perpetuating the deep and ancient spiritual schism between the Church east and west – occasioned by an argument about the Godhead and a creed which for centuries united, but then divided, God's people.
We lament this spiritual faultline becoming a millennium-long source of ongoing cultural, political, economic and militaristic hostility, directly stoking today's war.
We lament having forgotten the truth spoken by the Russian author Alexander Solzhenitsyn that the line dividing good and evil runs not between countries but through every human heart.
We lament having allowed fear and hatred to eclipse love and forgiveness by nurturing the hurts of the past.
We lament having been wooed by those 'defending the Christian faith' against those of other race, culture and belief.
We lament on behalf of our nations pursuing consumerist lifestyles of comfort and possessions, neglecting spiritual and moral values.
We lament that the one continent most shaped by the Bible paradoxically has become the one continent most shaped by the rejection of the Bible.
Questions
Beyond lamentations and the immediate task of stopping the war and saving lives, many questions are awaiting answers:
What role does religion play for better or for worse in the current eastern conflict?
What role did faith communities play after World War Two in applying theological language to political dilemmas, such as forgiveness and reconciliation, solidarity and common good?
What contributions can faith communities make today towards restoring peace and a new international order guaranteeing freedom of speech, of belief, from want and from fear?
These are questions which we plan to address at this year's STATE OF EUROPE FORUM in Paris, May 6 & 7. Held annually since 2011 in the capital of the country holding the presidency, the forum has been a platform for Europeans from various faith backgrounds and disciplines to evaluate the state of the continent in the light of Robert Schuman's vision for 'a community of peoples deeply rooted in Christian values'.
Plan to join us in Paris as we seek answers and responses to these questions.

Till next week,