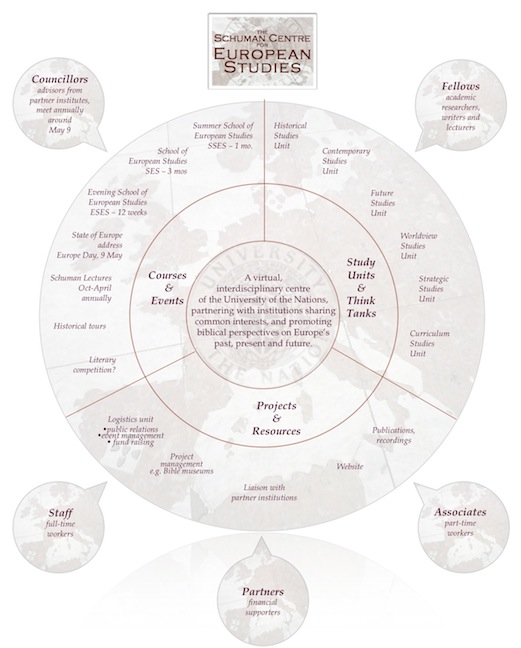 Each study unit of the Schuman Centre is a virtual team of individuals located anywhere in the world, particularly in Europe, linked through internet and video/skype-conferencing, working under the supervision of a study unit head. The heads of the study units and the LSU form a leadership team under the chairmanship of the centre director, who in turn relates to the international leadership team of the UofN, and the dean of the College of Humanities and International Studies.
The study units produce articles, papers and other publications, oversee study programmes, participate in forums and public readings, and contribute to curriculum development at all levels of education.
Proposed study units include:
1. Historical Studies Unit, HSU, to promote research on and public awareness of the role of the Bible and the biblical worldview in the development of European society.
2. Contemporary Studies Unit, CSU, to address the main challenges and opportunities facing Christians in Europe today, including
secularism and its many expressions
Islam and Islamism, and appropriate responses from the Christian community
new spirituality, its appeal, influence and impact on Europeans, as well as to
identify signs of hope, indications of God at work in European society.
3. Future Studies Unit, FSU, to research potential future scenarios of European society based on current trends, and to develop future perspectives based on Relationism.
4. Worldview Studies Unit, WSU, to examine and challenge the reductionist assumptions of Enlightenment Europe which marginalise human relations, and developing an understanding of European society in which relationships are foundational and central.
5. Strategic Studies Unit, SSU, to develop strategic applications of the research findings of the above units, for consideration by churches and movements, as well as social and political bodies.
6. Curriculum Development Unit, CDU, to draw on the work of other study units to develop school course materials for primary, secondary, tertiary and seminary levels, on:
the influence of the Bible and the biblical worldview in the development of European thought and society,
understanding and responding to secularism, Islam/-ism and new spirituality
envisioning alternative futures for Europe
To provide administrative support to the other units, a Logistical Support Unit, LSU, engages in fundraising, website management, event management, publications and press relations. The LSU consists of an administrative team, based in Heerde, the Netherlands.