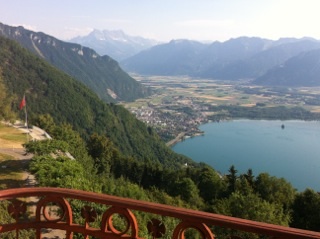 Apostles of reconciliation (Part II)
During this Christmas break, the Schuman Centre for European Studies will republish some excerpts of Jeff Fountain's book 'Deeply Rooted'. Today, Jeff continues with the story of how an American evangelist played a significant role in encouraging European leaders to rebuild Europe upon the message of the Gospel.
Later, after hearing about the dinner conversation (between Schuman and Boucquey – see part I), Buchman wrote to Schuman inviting him to visit Caux that summer, if possible at the same time as Konrad Adenauer. Both men were eager to do so. 
As it turned out, political duties hindered them both from meeting each other at Caux that summer of 1949.
In fact, the summer proved to be discouraging and frustrating for Schuman, with fruitless meetings in Paris about German reunification. All his efforts to move his French colleagues towards the idea of a united Europe were being thwarted by nationalistic or traditional perspectives.
When that fall another dinner invitation arrived from Louis Boucquey, this time to meet with Frank Buchman, a rather discouraged Schuman was grateful to accept the opportunity.
As the dinner guests began their meal, Boucquey commented on the honour it was to have these two men together at his table, to which Schuman replied:
"If I have contributed anything to mankind, I must also admit that much of my work has been destroyed and frustrated. But Dr Buchman, because he has concentrated his efforts on one section of human life–the most important one–has the joy of seeing them succeed and spread all over the world.
"Statesmen can propose far-reaching plans, but they cannot put them into effect without far-reaching changes in the hearts of people."
Turning to Buchman, he continued: "That is your work, and it is the kind of work I would like to do for the rest of my life."
As the conversation progressed around the table, Schuman felt a growing bond of trust with the evangelist. He turned to Buchman, asking his advice on a matter.
For years, he explained, he had wanted to get out of politics and write about the lessons of his life. He knew a quiet monastery with a library where he would be welcome.
"I could do my best work there. What should I do?"
Looking the Frenchman in the eye, Buchman paused and said, "Monsieur Schuman, what do you think in your heart you should do?"
In one movement, Schuman thrust his hands in the air, leaned back in his chair and laughed.
"Of course! I know I must stay where I am!"
Then he grew serious. Deep in his heart, he knew what he had to do, he confessed. But he was afraid.
He told about his upbringing on the borders of Luxembourg, Germany and Lorraine. He knew the mentality of both the French and the Germans and their problems. He knew he had a major role to play in ending the hatred between the two nations.
"But I shrink from it," he admitted.
Quietly, Buchman told him he had to stay where he was. "Under God, that is your place."
Schuman continued. "I don't know who to trust in the new Germany," adding that he had only just met Adenauer, who the month before had become chancellor of the newly founded Federal Republic of Germany.
Buchman promised to give him a list of a dozen names: "We have some excellent men in Caux!"
Schuman was due to visit Germany officially within a few weeks. "I will look them up," he assured Buchman.
Bonn Hauptbahnhof was wintry and almost deserted as the train pulled in on January 13, 1950. The welcoming committee of one solitary figure dressed against the cold turned out to be Chancellor Adenauer himself. Without ceremony he hustled Schuman and his colleague, Jean Monnet, towards the waiting car.
As the car pulled out of the station, Adenauer apologised for his bruskness, but explained that he feared an attack on the French foreign minister. Feelings were running high against the French, he explained, who appeared on the brink of absorbing the Saar.
Schuman's response that he had faith that Germany and France would cooperate in the future eased the atmosphere in the car considerably.
Yet this was not quite the context Schuman had imagined when talking to Buchman about meeting his 'excellent men from Caux'. Schuman had inherited the Saar problem as minister of foreign affairs, and it continued to fester like an open sore. If not delicately handled, it could infect all French-German relationships and thwart all other efforts to bring reconciliation and cooperation.
The Saar, the region along the Saar River valley bordering French Lorraine, was mineral rich and heavily industrialised. With the Ruhr, it had been a major centre of the industrial revolution, and a source of munitions for German armies since the early 1800's. After the war, the Saar had been made a protectorate administered by France. As in other parts of Germany, the victors had systematically dismantled potentially threatening industry, often causing deep resentment on behalf of the Germans.
As victims of three German invasions in 70 years, largely fuelled by Saar industry, the French felt a moral claim to the territory. The large coal deposits made the Saar particularly attractive to France to feed their steel industries over the border in Lorraine.
Now the Saar issue seemed to threaten the one personal relationship on which Schuman had started to build his hopes, based on a common link with a mutual confident, Buchman.
Monnet noted the atmosphère glacée at the Bonn meeting in his memoirs, and warned Schuman they could be on the brink of making the same mistake with Germany as after the First World War. This particular visit did not settle anything concerning the Saar, although the impression lingered with Adenauer that Schuman was open for the region to be returned to Germany one day. Adenauer later described the meeting as ending in an atmosphere of mutual trust.
Jeff Fountain
Director Schuman Centre
Picture: View from Caux