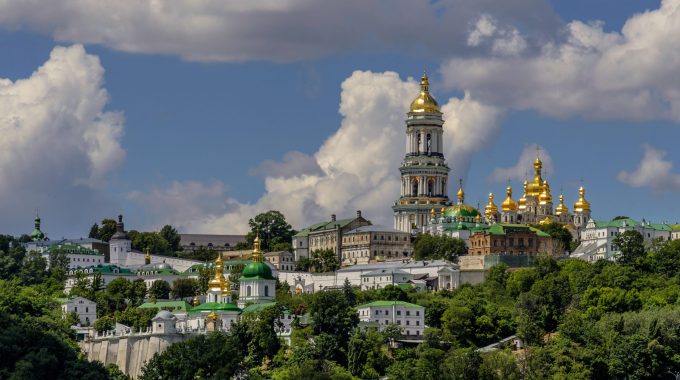 A European Journey #55 – Kiev (Ukraine)
5.

A European Journey #55 – Kiev (Ukraine)
The powerful and the wealthy played a significant role in Christianizing the Eastern Slavic lands. But believing that this process was top-down would be a mistake. For another movement, outside of political power structures, impacted the common people more deeply: monasticism.
In this last stage of a miniseries dedicated to the spread of the Gospel among the Eastern Slavic nations, we will look to see how monasticism began there. To discover this, we will return to Kiev for the third time. We will go three kilometres south from the monument to Volodymyr the Great where we were two stages ago. There we discover several buildings with golden onion domes. These magnificent buildings belong to one of the most famous monasteries of Ukraine, the Pechersky Lavra, or the Monastery of the Caves.
At first glance, we might believe that Pechersky Lavra was built by some powerful ruler of the past. But a closer look at its history reveals a rather different picture. The monk Nestor the Chronicler was a member of this monastic community. He wrote the following about Pechersky Lavra and its founder Anthony:
"Many monasteries have been founded by princes and nobles, and by wealth, but they are not such as those which have been founded by tears, and fasting, and prayer and vigil; Anthony had neither gold nor silver, but he procured all by prayer and fasting."
Before the monastery was founded, the area was a forest outside of Kiev, the centre of power. Yet even if this monastery had a very humble beginning, it finally became the reference point for the monastic movement in Eastern Slavic lands. Just how did it happen?
It is quite remarkable to notice that three of the first hegumenos, or abbots, of the monastery were called Hilarion, Anthony and Theodosius, which are the same names as three of the Egyptian fathers of the whole monastic movement.
Although Hilarion of Kiev was not the founder of the monastery, he pioneered a hermitage here. Before that he had served as a presbyter in a princely residence that was located nearby. There he had gained a reputation that allowed him to be appointed metropolitan of Kiev by the Great Prince Yaroslav. He was thus the first Slavic cleric to obtain such a role. Nevertheless, the church leaders in Constantinople who had not been involved in the election were opposed to his appointment. This tension caused him to retreat to a cave where he lived alone until his death a couple of years later. It seems through this account that Hilarion's life finished as a failure. And yet little did he know of what would happen there after his death.
For during the life of Hilarion's successor, Anthony of the Caves, the hermitage became a monastic community. Anthony was born in Lyubech, near modern-day Belarus, and was drawn to faith in Christ at a very young age. When he was of age, he travelled to Mount Athos in Greece where he joined a monastic community. Anthony was so attracted by this lifestyle that he desired to live the rest of his life there. But the hegumenos had a different idea and suggested him to return to his homeland. Anthony obeyed and returned to Kiev. He then heard about Hilarion's hermitage that was now deserted and moved there.
Later twelve hermits joined him. Through this Anthony began to understand that a community was being formed and so he accepted the hermits' plans to build a church. However, it would seem that he missed living alone as he moved to another cave for the rest of his life.
Before moving, Anthony appointed Theodosius as his successor. In his time, the community grew to a hundred monks, and so he realised that a monastic rule was needed. Theodosius knew about a rule that had been developed by the abbot of the Stoudios monastery in Constantinople. He translated it and added some of his own rules. The rule of Theodosius, which revolved around prayer, personal discipline, mutual charity, obedience and diligence in labour, became the model for all the monasteries of the country.
Theodosius was well-respected by the authorities. He once rebuked Prince Sviatoslav because he had usurped power from his brother. Nevertheless, the prince still provided the necessary means to continue the construction of the monastery.
Many monks were sent out from Pechersky Lavra to plant new monasteries all over the country. Others became bishops of important sees of the Russian church. Others still became evangelists among the pagan tribes of Russia, often at the cost of their lives. Even some members of the princely family became monks in Pechersky Lavra, such as Prince Nicholas of Chernigov or Sudislav of Pskov, the brother of Yaroslav the Great.
To use the imagery of Jesus Christ when he talked about God's kingdom, Pechersky Lavra is a perfect example of how a small seed can grow into a great tree.
See you next week somewhere else in Europe.
Cédric Placentino
Schuman Centre convener for Italian and French Europe
Follow A European Journey here.
Picture: Wikipedia – username: Falin – link to license: https://creativecommons.org/licenses/by-sa/3.0/legalcode