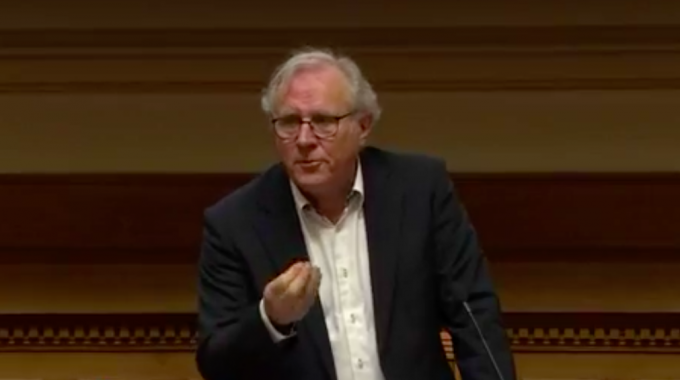 Three minutes that changed Europe (Part II)
A speech from Jeff Fountain during the Europe Day Celebration (9th May 2019 in Bucharest) (Part I here)
It was on a train trip in 1948, when Schuman heard of a centre in Switzerland called, 'The Centre for the Reconciliation of the Nations' in a place called Caux, right above Montreux, at the eastern end of Lake Geneva.
He heard that there was a lot of reconciliation going on between the labour management and the labour workers there. He was very intrigued by what was happening there. He wanted to meet this man, Frank Buchman, who was a Lutheran evangelist who led this movement called 'Moral Rearmament' that had bought this place. Actually he didn't get up there himself until 1952, but he did meet with Mr. Buchman and he said, 'I am fascinated by what you're doing. I'm not sure, I think I need to retire. I'd like to go to a monastery and write my memoires. What do you think I should do?' And Frank Buchman said, 'What does your heart tell you to do?' These were people who believed in listening to the voice of God. Schuman said, 'I knew you were going to say something like that. I know that the task of reconciliation between Germany and France is not yet finished.' 
Caux was the place where thousands of Germans were able to come there together from industry, from education, from media, from the church, from government. They would meet their counterparts from other nations. That is where there was a lot of reconciliation happening between these peoples. Schuman had asked Buchman, 'But who can I trust in the new Germany?' Buchman answered, 'We have many fine people here in Caux.' One of them was Konrad Adenauer. He came there with many members of his own family.
Adenauer was there when he heard a Frenchwoman named Irene Laure confess her hatred towards the Germans. She wanted to see all of Germany wiped from the face of the map. And yet, it was at Caux where she had a heart change. She asked to speak to all the Germans. She asked forgiveness of all the Germans for her attitude towards Germany. They responded in kindness. Adenauer said, 'You must come and tell this story in Germany,' She came and addressed many of the Länder parliaments  in Western Germany.
This began a whole movement of reconciliation and forgiveness that became deeply rooted. Even in the industrial Ruhr valley area, trade union leaders were transformed by the story of the Gospel that was preached through drama and film by the Moral Rearmament people, that these were people that used to be under the thumb of the Kremlin. This is a side of the story we don't often hear; how this process of forgiveness and reconciliation was right at the heart of birthing a new concept of how the nations of Europe could relate together. And it was this relationship then, between Adenauer and Schuman that was made possible through the contact, through Frank Buchman, that they could build trust, a Frenchman and a German. 
The statement was made on the 9th of May, 1950, to launch the European Coal and Steel Community. Schuman, Adenauer and the Italian Alcide De Gasperi, went together for a prayer retreat in a monastery on their way to sign that treaty, eventually in 1951. And that's when Adenauer said to Schuman, 'I believe it is providential that the main task of rebuilding Europe on these Christian foundations rests on the shoulders of men like you and me and our brother, Alcide De Gasperi.' They were consciously trying to rebuild Europe on these Christian foundations.
That's eventually what led to this event on the 9th of May, exactly 69 years ago tonight. The headlines the next talked about the Schuman bombshell, of how Schuman had surprised the world. Never before had the defeated party been treated as an equal after war. This was something new, something right out of the box that had Christian motivation. Therefore, it is not inappropriate that the EU was given the Nobel Peace Prize a few years ago. The story begins on the 9th of May. That's really why we should recognize the 9th of May as Europe Day.
We should actually recognize it as a kind of Interdependence Day, a day of connectedness, a day where we celebrate our unity with diversity, a day where we can actually pause and do something to make us realize we have been so enriched by our diversity. We've been so enriched by the fact that we have all these other cultures and our open borders that we can relate to each other. There is no other place on the face of this earth that has an experiment going on like this. So, why don't we have an international meal, or have international music, or go to art galleries to appreciate all the art that comes from these different nationalities. We can thank God for this diversity.
The motto of the EU, of course, is 'Unity with diversity.' There is only one philosophical base for unity with diversity and that's what's expressed in the Nicene Creed; the unity and diversity of the Trinity. That is not possible through Monism or Dualism. It is only possible through Trinitarianism. As Father Mavrichi said, It really does underscore that the foundation was laid in Nicea in 325 AD.[1] I hope this gives a little understanding as to why we feel it is important to put this day on the map and to hold an event for the State of Europe Forum. This was inspired by Vaclav Havel, from Czech Republic, who wrote about how he wanted to have a State of the World Forum. This is a time where we can come together Christians from different backgrounds, Pentecostals through to Orthodox, from all sorts of different disciplines, to look at our situation in Europe and ask, 'Where do we need to go from here?'
You see, the future of Europe is far too important to leave up to politicians. What Europe needs is a soul. This is something that Robert Schuman talked about, the soul and the spirit of Europe. The soul was the life source. The spirit was recognizing that life source and saying, 'Yes, we embrace that, therefore, we commit ourselves to the good of the whole.' It's not the competence of politicians to find the souls. That is the faith community's job. This is why we, representing different faith communities, need to ask, 'How can we be involved in shaping tomorrow's Europe?' We may be pessimistic about the future but we need to pause and reflect, what did Europe look like at the end of the Second World War, and be thankful for what has happened since then.
Jeff Fountain
Director Schuman Centre
---
[1]Ironically the Council of Nicea of 325 AD, where the Creed was signed, started also on the month of May.