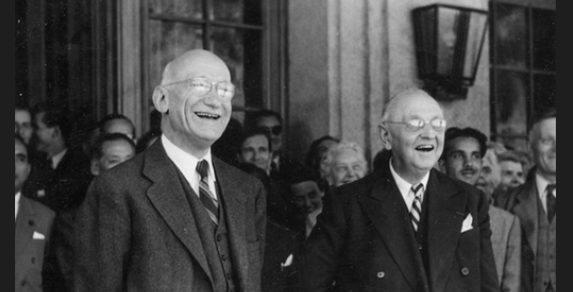 Apostles of reconciliation (Part III)
From Jeff Fountain's book Deeply Rooted. (Part I here, Part II here)
Despite the positive climate which resulted from the first meeting between Robert Schuman and Konrad Adenauer, when within two months the French government moved to integrate the Saar into France, Adenauer was greatly upset.
When some friends of Buchman visited the chancellor a few weeks later, he could not refrain from calling Schuman a 'lying Alsatian peasant'!
Diplomatically the visitors asked how the chancellor could perhaps change Schuman. Adenauer caught himself, and repeating what he had learnt at Caux said, "I also need to change more myself."
Schuman, too, had cause to reflect on the message of Caux. A mild bout of flu gave him the respite he needed from normal work to write the promised foreword for Buchman's book.
All too aware of the frustrations of politics, Schuman began by admitting that statesmen had only been moderately successful in 'remaking the world'. What Moral Re-Armament brought, however, was a philosophy of life applied in action. In his own words, he then described Buchman's programme:
To begin by creating a moral climate in which true brotherly unity can flourish, overarching all that today tears the world apart–that is the immediate goal.
The acquisition of wisdom about men and affairs by bringing people together in public assemblies and public encounters–that is the means employed.
To provide teams of trained people, ready for the service of the state, apostles of reconciliation and builders of a new world–that is the beginning of a far-reaching transformation of society in which, during fifteen war-ravaged years, the first steps have already been made.
True brotherly love and far-reaching transformation of society seemed further away than ever, however, as Schuman boarded the train in Paris for a weekend break in his home village of Scy-Chazelles late that April of 1950.
Spring had brought no thaw in the icy relations with the Germans. Schuman felt in an impasse in whatever direction he turned. Both Adenauer and Schuman had the will themselves to act as apostles of reconciliation. But they could not find the political instrument to overcome what Schuman would later describe as 'the terrible mortgage of fate: fear'. They needed some psychological leap forward, a breach-opener.
The crucial upcoming meeting with his American and British counterparts also weighed on his mind. What positive policy proposal towards Germany could he bring to the table?
Hurried footsteps in the corridor of the carriage interrupted his thoughts. The door to his couchette slid open and he heard the familiar voice of his private secretary: "Monsieur, could you read this paper of Monnet's, s'il vous plait? C'est important!" 

Monnet's proposal led directly to the Schuman Declaration of May 9, 1950, the high point of Schuman's political career. He remained foreign minister until January 1953, later serving briefly as minister of justice, and then Lord Chancellor. 
Schuman finally realised his desire to visit Caux in 1953, and described it as one of the greatest experiences of his life. In recognition of Frank Buchman's contribution towards a 'climate in which the new relationship between France and Germany had been rendered possible', Schuman decorated him as a Chevalier of the Legion of Honour. He supported Buchman's work until the evangelist's death in 1961.
Adenauer likewise acknowledged the role of Buchman and the mramovement by awarding him the German Order of Merit. In an article in the New York Herald-Tribune, Adenauer described MRA's role in recent difficult and important international agreements as 'an invisible but effective part in bridging differences of opinion between negotiating parties… Moral Re-Armament has rendered great and lasting service.' 
In 1958, Robert Schuman was appointed president of the newly formed European Assembly, later to become the European Parliament. When in 1960 he retired due to his health, he was acclaimed 'Father of Europe' by a standing ovation in the European Parliament. Schuman was awarded many other honours, including the Charlemagne Prize. Cerebral arteriosclerosis confined him to his house in Scy-Chazelles until his death in 1963, aged 76.
Jeff Fountain
Director Schuman Centre