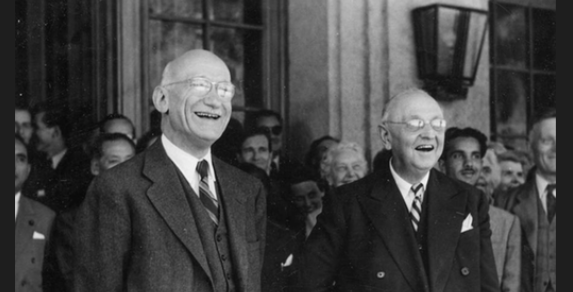 Apostles of reconciliation (Part I)
From Jeff Fountain's book Deeply Rooted.
While still prime minister, Schuman had heard reports of such inner change needed for the rebuilding of post-war Europe from a conversation on a train in the spring of 1948.
Louis Boucquey, an industrialist from Lille in the north of France, had told him of a remarkable reversal in attitude in the secretary of an employers' federation after attending a conference the year before in a mountain village in Switzerland called Caux.
As tensions between government, labour union officials, miners and factory workers had threatened to boil over into civil war, several hundred leaders from mines and textile factories had met on the coast near Calais. The spirit of Caux had prevailed at this meeting, Boucquey had told Schuman, resulting in a new climate of trust, reconciliation and cooperation.
Schuman asked the industrialist if he could learn more about these conferences held in Caux. He wanted know more about the global movement behind them called Moral Re-Armament (MRA), initiated by an American Lutheran evangelist named Frank Buchman.
Nearly a year passed when, in March 1949, Boucquey invited Schuman to his home on the outskirts of Paris to a private dinner with two close colleagues of Buchman. Schuman was now the foreign minister, and was preparing to leave for Washington to sign the North Atlantic Treaty the following month.
One of the dinner guests, a Swiss diplomat named Philippe Mottu, was one of the prime movers of the Caux story. He could tell first-hand of the conversion of a famous hotel into a Centre for the Reconciliation of the Nations immediately after the war.
High above Montreux, Caux Palace commanded a magnificent view over the eastern end of Lake Geneva towards the French Alps. Switzerland's largest and most prestigious hotel when built in 1902, it had been purchased by ninety-five Swiss Christian families associated with MRA. They had sacrificially given family jewels, life insurance policies, holiday money and even houses, to buy the now run-down asylum for war refugees. Re-named Mountain House, the palace had quickly become a haven for healing the past and forging the future.
For decades before the war, Frank Buchman had preached a message of submission to God's will for individuals and families, for kings, presidents and even nations. Now, after the turbulent war years, Buchman and members of MRA focussed on the task of remaking the post-war world through forgiveness and reconciliation.
When Buchman visited Mountain House in the summer of 1946, an excited delegation of young volunteers from across Europe had assembled in the cavernous reception hall to greet him. Some were dressed in national costume. Buchman looked around at all the faces and costumes, and then in a loud voice asked: "Where are the Germans?"
Everybody fell suddenly silent. A full year had passed since hostilities had ceased, but Buchman's question still shocked many of those present.
"Some of you think that Germany has got to change, and that is true. But you will never be able to rebuild Europe without the Germans!" said Buchman emphatically.
Like Schuman, Buchman believed that if Germany was not embraced by Christian forgiveness and reconciliation, godless forces of anarchy or communism would fill the post-war vacuum.
No doubt Mottu told Schuman over dinner how, in 1947, the first of what would become thousands of leading German citizens had been given special permission by the Allied authorities to travel to Caux to meet their opposite numbers from Europe and other continents. The message of forgiveness and reconciliation taught by Buchman and his colleagues had affected them deeply.
At the last summer's event, in 1948, four hundred and fifty Germans had visited Caux, among them Konrad Adenauer. Immediately the future chancellor had recognised the power and timeliness of this message for his own people. He had invited MRA teams to share the message of forgiveness through travelling musical shows and arranged a series of official receptions for Buchman.
Schuman would have resonated strongly with these reports. Here obviously was a message that produced the inner change he so longed to see!
But his fellow guests were equally interested to hear the minister's views on the forthcoming Atlantic Pact. How effective would the treaty really be?
Schuman spoke candidly. If the treaty could only touch the political and military realms, it would prove defective. Bombs and weapons alone were not enough. Inner change in the West's way of life was needed.
"We need to give fresh ideological content to the life of the millions of Europe," he told his fellow dinner-guests. Then he added, "We all need to reach a deep inner change in order to find the solutions to our major problems."
Boucquey recognised how much Schuman's language resonated with that of Dr Buchman in his many speeches that had been collated in a book called, Remaking the World. On the spur of the moment, Boucquey asked his guest if he would write the foreword to a French edition of Buchman's book. Schuman accepted, although it would be early the next year before he would have opportunity to write it.
(Part II here)
Jeff Fountain
Director Schuman Centre