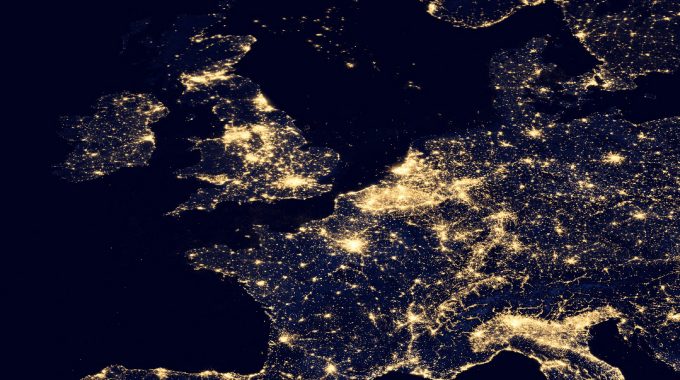 Published on the 7th of January 2013, This weekly word from Jeff Fountain was the first of two articles dealing with five crises that Europe was facing then. As they still are actual, we republish them this week.
Best wishes, folks, for the new year. Seems like we'll need them. Because frankly the prospects are not so good – for this year, and for the foreseeable future. And it's time we faced some issues squarely. 
That's not an optimistic start. But we are not called to be optimists. We are called to be people of hope. And there's a difference. We must be realists. We need to understand the times and not simply 'look on the bright side'. Yet even when there is cause for deep concern, we have hope because we look beyond the natural, the human and the technological for our salvation.
Europe is facing crisis. Multiple crises in fact. A perfect storm is brewing. And these realities should be occupying our thought and prayer. Because they are affecting the lives  and futures of millions, particularly the young and the unborn. And that should affect the way we do mission.
A few days ago at a European Missions Consultation at Redcliffe College, Gloucester, British mission leaders listened to Jim Memory, Redcliffe lecturer and co-editor of Vista present a sober picture of four fields in which Europe faces major challenges, with a fifth perhaps dwarfing all the others. 
Scenarios
The economic crisis is the most obvious one, with no foreseeable solution to the stagnation. Jim spoke of four scenarios: 
maintaining the status quo, with richer eurozone members bailing out the southern strugglers, making stagflation almost inevitable for the next decade or two! 
a disorderly breakup of the eurozone, leading to a period of chaos on the financial markets, and hitting the Club Med countries badly; 
a structured breakup of the Eurozone, with certain countries assisted out the back door, again creating widespread hardship, especially in the south; and 
full fiscal union, centralising economic power, a widely  unacceptable idea. There's just no easy solution. 
Before we go further with Jim's points, let's just pause for a reality check. This year will be decisive for the EU, for Europe's future, and for Europe's influence in the world. 
George Friedman of Stratfor Global Intelligence explains in a recent analysis that five EU countries are significantly below the U.S. unemployment rate of 7.7 percent (Austria, Luxembourg, Germany, Netherlands and Malta); and seven are around the U.S. rate (Romania, Czech Republic, Belgium, Denmark, Finland, the United Kingdom and Sweden). The remaining 15 countries are above U.S. unemployment levels; 11 have unemployment rates between 10 and 17 percent, including France at 10.7 percent, Italy at 11.1 percent, Ireland at 14.7 percent and Portugal at 16.3 percent. Two others are staggeringly higher, he says, Greece at 25.4 percent and Spain at 26.2 percent–levels close to the unemployment rate in the United States at the height of the Great Depression.
Those of us in northern Europe are shielded from the fear, anxiety and uncertainty our fellow Europeans are experiencing in the south. A former YWAM leader in Portugal wrote to me recently asking what role Christians could play in the midst of the 'horrific turmoil and suffering' that is taking place in Greece and Portugal. 
"I have friends who are going through horrendous difficulties in Portugal, and this is influencing their view of Europe," she wrote. "The peace that the EU brought seems to be under so much threat it is heart-breaking. I feel helpless as to how to help my friends in Portugal. The despair has led one of them to attempt suicide." 
Unemployment
Friedman agrees. We need to consider what these numbers mean socially, he urges. In Italy, Portugal, Spain and Greece, more than a third of the workforce under 25 is reportedly unemployed. It will take a generation to lower the rate to an acceptable level in Spain and Greece. 
Many young people, even with degrees, may never have the opportunity to pursue their chosen career, he says,  and quite possibly will never get a job at the social level they anticipated. Unemployment affects more than just one person. It affects the immediate family, parents and possibly other relatives, financially but also psychologically. It creates a sense of failure and dread, explains Friedman.
Obviously I'm not going to cover the other four fields Jim talked about in the next few lines! We'll continue next week. But let me stress: we need to start thinking what these realities mean for the way we do mission. 
Economic stagnation will pinch mission budgets. 'Business as mission', job creation, social justice issues and the development of mission communities will take on more urgency as the crisis bites deeper.
Jeff Fountain
Director Schuman Centre
For more articles from Jeff, visit www.weeklyword.eu