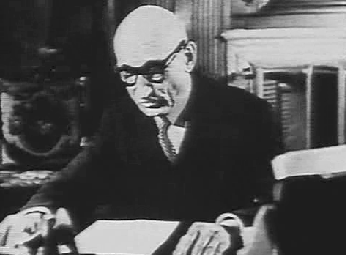 Making war impossible – The story of Schuman (Part I)
From Jeff Fountain's book Deeply Rooted.
The last passengers were boarding the Paris-Metz train at Gare de l'Est as Robert Schuman settled into his second-class compartment. He was looking forward to a quiet weekend of reflection in his beloved country house at Scy-Chazelles outside Metz, a wine-producing area in his political constituency of Moselle in Lorraine.
Five years had passed, on this last Saturday morning in April, 1950, since the end of the most murderous war in history. But cessation of hostilities had not brought national 'peace'. French governments rarely had lasted a year in the tumultuous post-war years.
Yet Schuman's reputation for honesty and integrity, as well as his legal and political shrewdness, had promoted him to top national political responsibilities. In 1946 he had been appointed Finance Minister where his popularity had enabled him to apply the drastic measures necessary to stabilise the post-war economy.
Late the following year, Schuman had been asked by the president to head a new government, just as the country seemed headed towards civil war. Communist agitators, under orders from Moscow, were succeeding in bringing France to a standstill through strikes and sabotage, ransacking arms factories and paralysing railways, mines and power stations.
Only one week after becoming prime minister, Schuman had called up 80,000 reservists to repress all sabotage. Communist fury at this measure had burst out on all fronts, but the premier had stood firm. Within the French national assembly, communist members had kept up a torrent of verbal abuse, accusing him of being a Nazi-lover.
On one occasion in the heat of these crucial days, he had been overcome by emotion. Burying his face in his hands, he had silently prayed for wisdom and resolve, before continuing the business of the meeting.
Eventually the central strike committee had backed down and given the signal to return to work. The crisis had passed.
Yet Stalin's less-than-peaceful intentions in Europe had become clear as Soviet troops ruthlessly clamped their iron grip on Poland, followed by Hungary, then Romania, Bulgaria and Czechoslovakia.
In 1949, just the year before, the Western Allies had managed to break the Soviets' attempt to gain a stranglehold over all of Berlin by cutting off road and rail access to the western sectors. The Allies had responded with a round-the-clock airlift, flying over four thousand tons of supplies daily, a total of 200,000 flights, sustained constantly for almost a year.
These five post-war years had been anything but peaceful. Weekend breaks in Scy-Chazelles had offered Schuman essential spiritual and mental refreshment since the war. This particular weekend would help him now, in his more recent role as foreign minister, prepare for a crucial meeting with his American and British counterparts less than two weeks away. The US Secretary of State had warned the Frenchman to come with a positive policy proposal towards Germany and its integration into the community of free nations. If not, the French would be given no further say in the future of the industrial Ruhr region.
Schuman needed a plan, a bold plan that would reshape the landscape, a plan that would make going to war in the future very difficult, if not impossible. This thought had preoccupied him since their last meeting in New York, the preceding September.
The train still had not left the station when hurried footsteps in the corridor outside interrupted his thoughts. The door to his couchette slid open and the head and shoulders of his private secretary, Bernard Clappier, appeared through the curtains.
"Monsieur,could you read this draftfrom Monnet, s'il vous plait? C'est important!"
Thrusting a document towards his surprised boss, he disappeared as quickly as he had come.
Minutes later as the train pulled out of Paris, a curious Schuman scanned the opening pages of the paper to see what his secretary thought to be so urgent.
Jean Monnet was no stranger to Schuman. An internationalist, his family cognac business had exposed him extensively to Swiss and Swedes, English and Americans, and even Russians and Chinese. A story circulated that he had vainly tried to book a berth on the maiden voyage of the Titanic in 1912, a failure which may have saved his life.
After France fell to the Germans in 1940, Churchill had sent Monnet to Washington on a British passport to persuade the Americans to provide war supplies, while still a neutral country, and thus help overwhelm the Germans. His efforts, according to economist John Maynard Keynes, had shortened the war by a year.
Three years earlier, Monnet and Schuman had grown to respect each other while working together on finance planning. One hot day, they had even indulged in the unusual informality of taking their jackets off. They were of one mind on the need to build peace on equality. Peace efforts after World War One had failed, they concurred, because of discrimination and attitudes of superiority towards the Germans. Both were afraid the same mistakes were about to be repeated.
Like Schuman, Monnet believed a new political system had to replace the old balance of power between nations that had now failed twice, resulting in global war. As Deputy Secretary-General of the League of Nations, he had witnessed first-hand the failure of mere inter-governmental cooperation. Stronger measures were needed in the real world of international politics.
To be continued…
Jeff Fountain