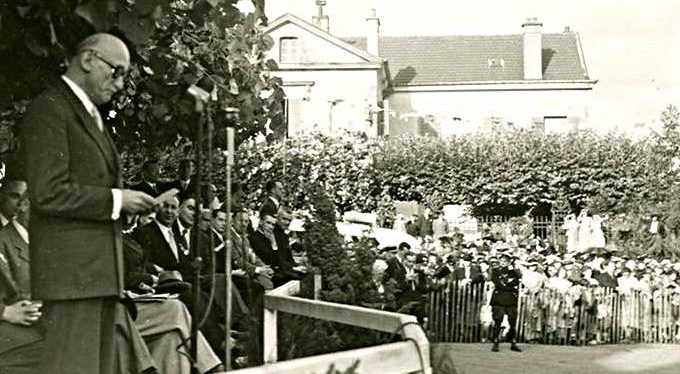 When Henry Vyner-Brooks proposed a double biography about two 'Fathers of Europe', his publishers were not convinced it would work.
Although they had previously published his Renaissance novels, they balked at his plan to present a 'set of binoculars with which to observe the drama of western civilisation'. After all, the names and stories of the Celtic monk Columbanus and the monkish Robert Schuman were hardly known across the continent, despite the fact that their lives had helped significantly to shape its story.
Yet in my conversation with Henry last weekend for this month's Schuman Talk, I celebrated his 650-page tome as a unique contribution filling a major gap in literature on the making of Europe. For some years I had searched for contemporary texts for our European Studies masters programme unfolding the role of Christianity in creating the concept of Europe in the early Middle Ages and reviving European civilisation after World War Two. When Tom Holland's Dominion appeared it was a welcome new statement on a theme historians like Christopher Dawson had addressed two generations ago. And now Henry's book, Saving Europe, presented in the stories of this Irish pioneer and French politician 'key historical markers at either end of our European consciousness'.
Vyner-Brooks, a self-styled 'blue-collar scholar' – operating outside the academic establishment – writes as an Englishman seeking to understand his country's relationship with the rest of Europe 'through the long telescope of history'. 'How many strands of memory – sociological, legal, ethnic, historical and religious – bind us together?' he asks in his introduction to the book. 'How much of this would be affected by our leaving (the EU)?' 'How much have we Britons helped to make (our neighbours) who they are over the last 2000 years? And how much have they made us who we are?'
Digressions
Whatever the next decade will be for Britain, he posits, surely it cannot be a time of geographical and historical parochialism. Deploying a military analogy, he warns that 'a regiment may move some distance without its allies, but it cannot be severed from the supply train at the same time' .
For someone who readily admits his dyslexia, Henry reveals an enormous breadth and depth of reading throughout the book which takes sweeping digressions from the biographical details of the two featured figures to offer very readable overviews of the classical era and pre-Christian Europe; of the long march of European re-integration (800-1920); of the influence of Thomas Aquinas and medieval scholasticism on the development of Catholic Social Teaching which shaped the vision of Schuman and his fellow Catholic statesmen, De Gasperi and Adenauer; of the subsequent history of European integration through to our own times; plus an extended 'soul-searching' epilogue reflecting on the future of Europe.
Just these sections compiled together, or each of the two biographies published separately, would be valuable resources. But woven together like Celtic artwork, the overall tapestry is a magisterial achievement, especially given that Henry's training is as an architect, not an historian, theologian or philosopher. He has dug for much more detail and background on the Robert Schuman story than does my own book, Deeply Rooted. I learned many new facts about a man whose story ought to be widely taught in Europe's schools.
Journey
An appendix telling how the book came to be written explains that Henry knew nothing about Columbanus nor Schuman when he attended a seminar in Amsterdam at the Vrije (Free) University back in 2012. There he heard me talk briefly about Schuman and the Schuman Centre, and about the State of Europe Forum to be held that spring in Dublin. Weeks later he found himself sitting in Christ Church Cathedral in Dublin at the opening event of the forum, listening to Os Guinness talk about the intrepid Irish monks who travelled from their homeland to reignite the lamp of learning on the continent. He also heard more of the Schuman story.
Another five years would pass however before the idea germinated in Henry's mind of twinning the two biographies as bookends of European consciousness. Alongside reading and researching, he packed cameras and camping equipment in his van, along with two of his six children, and set off from their Lake District home on a 6500 kilometre journey criss-crossing Europe in the footsteps of both men, to produce an impressive series of videos capturing their stories. (See savingeurope.com).
The photo above, which appears at the start of the book to link the two stories, captures Schuman addressing a crowd in July 1950 in front of the abbey founded by Columbanus in Luxeuil, France. Here the French Foreign Minister is acknowledging Columbanus as 'the patron saint of all those who seek to construct a united Europe'. A few short years later, Schuman would also hear the European Assembly acclaim himself as 'Father of Europe'.
Till next week,