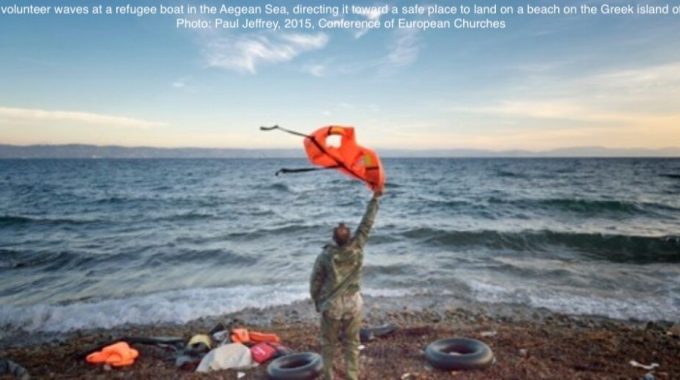 Addressing Europe's Shame
What should Christians be saying to Europe's politicians about the shameful hypocrisy of European migration policy?
The EU's core values of equality, freedom and human dignity have been conspicuously absent in the the response of European nations to the plight of desperate human beings, as exposed by recent events in Moria camp on Lesbos Island in Greece.
Church leaders are raising prophetic voices to their national and European political leaders. In the Netherlands, for example, full page advertisements appeared in Dutch secular papers last week in the name of many churches and organisations protesting the government's miserly allowance of a mere 100 Moria refugee children – to be detracted from future migrant numbers.
On Friday, a clear and direct statement on the situation of migrants and refugees in Europe was presented to European Commission officials in Brussels, co-signed by representatives of European and global churches and agencies concerned with migrants, refugees and asylum seekers (see list below). The signatories represented 2.8 billion people—over one-third of the world's population.
European Commission President von der Leyen, in her State of the Union speech on 16 September, said: "We will take a human and humane approach. Saving lives at sea is not optional. And those countries who fulfil their legal and moral duties or are more exposed than others, must be able to rely on the solidarity of our whole European Union…..if we step up, then I expect all Member States to step up too. Migration is a European challenge and all of Europe must do its part…"
Yet Dr Torsten Moritz, general secretary of the Churches' Commission for Migrants in Europe, told EU officials that while the text of the EU Migration Pact reflected overall good intentions and some promising ideas, the overall focus on border, border procedures, return and cooperation with dubious governments in third countries was "very worrying".
Reactions from church members across Europe had been pouring in, he said, particularly from those who had welcomed people seeking protection, sponsored humanitarian corridors, rescued people from drowning, and, most recently, intervened to help after the fire in the Moria camp – including former refugees themselves.
"Many of them have expressed a feeling of embarrassment for being European at this moment," he told the officials.
Stigmatisation
As Christian organisations, the signatories were deeply committed to the inviolable dignity of the human person created in the image of God, as well as to the concepts of the common good, of global solidarity and of the promotion of a society that welcomed strangers, cared for those fleeing danger, and protected the vulnerable.
Migration was an integral part of human history and would remain part of human life, the statement recognised, expressing deep concern over the stigmatisation of mobility.
The churches' statement blamed the continued refusal of the EU and its member states to assume their international obligations to protect refugees for the recent Moria disaster. The 2016 EU-Turkey deal had closed the doors – and the eyes – of Europe – yet none of the underlying issues had really been solved.
While one million asylum seekers in 2015 was certainly a challenge for Europe, it was only a small proportion of the total number of forcibly displaced people globally, (79.5 million in 2019, including 45.7 million internally displaced persons (IDPs). Two-thirds of the world's refugees were hosted outside of Europe, in Africa (31%), Asia (20%), the Middle East and North Africa (13%) and the Americas (3%). Turkey was host to the largest number of refugees of any single country (3.6 million in 2019).
Compassionate welcome
Our calling as Christians compelled us to welcome the stranger as our response to Jesus himself. A compassionate welcome to those newly arrived was not detrimental for those presently living in Europe. Mutual respect and support rather than divisiveness and exclusion should be promoted.
The churches and agencies promised to continue to:
offer various channels of safe passage, be it through humanitarian corridors, sponsored resettlement or help with family reunification;
respond directly in Lesbos and beyond: e.g. by financially supporting activities for newly arrived and locals alike;
promote child protection in emergencies;
contribute to conditions in which people are no longer forced to leave their home countries.
As long as people were compelled to move, the churches urged, Europe should accept its obligation to welcome and protect – as one of the richest and most developed regions of the globe – instead of coercing third countries into stopping migration to Europe. Solidarity meant that the stronger shoulders accepted more responsibility than the weaker ones, but also that everyone contributes what they can.
"We therefore call for a system involving all EU member states in effective reception and integration," the churches implored.
---
Signatories included: the ACT Alliance, the Anglican Communion, the Churches' Commission for Migrants in Europe, the Conference of European Churches, the European Region of the World Association for Christian Communication, the Evangelical Church of Greece, the Integration Center for Migrant Workers – Ecumenical Refugee Program, Non Profit Organisation of the Church of Greece, the Lutheran World Federation, the Pontifical Council for Promoting Christian Unity, the World Communion of Reformed Churches, the World Communion of Reformed Churches (European Region), the World Council of Churches and the World Methodist Council.
Jeff Foutnain
Director Schuman Centre