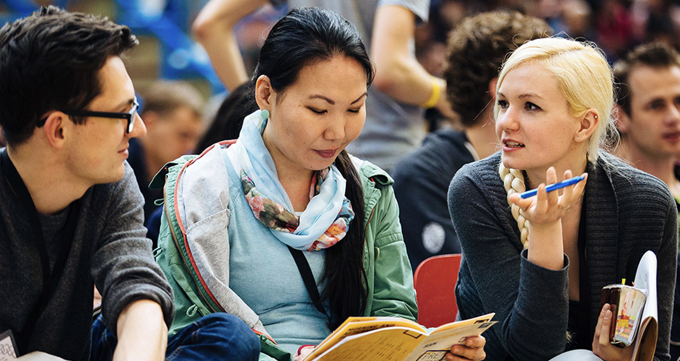 Awakening, Reviving And Saving Europe
Can Europe be awakened, revived or saved?
Or is the 'post-Christian' continent, the former heart of Christendom, doomed to be overrun by Moslems and 'barbarians', following Turkey and North Africa?
The latter is feared by many swayed by populist voices in the political arena predicting Europe's demise through migration.
Others however believe the end of the story hasn't been written yet. They are behind the following new initiatives:
• Awakening Europe is calling anyone around the world with a European heritage to come back next summer to be part of a four-day stadium event in Rotterdam with 'powerful preachers' and daily street evangelism to 'Flood Rotterdam', before spreading out in evangelism teams across the continent for another week of missions in twenty nations. GODfest Ministries Inc. are the driving force, led by Ben Fitzgerald whose life was turned around in 2002 from drug-dealing to proclaiming Jesus.
•Revive Europe aims to gather students and graduates in Karlsruhe between Christmas and New Year for personal, corporate and continental revival based on the prayer of Psalm 85: Revive us again… Seminars and workshops will help equip students to return home to engage with a sceptical and secular campus. Revive Europe is spearheaded by IFES and partnered by numerous European networks.
• Europe shall be saved promotes an agenda of evangelism, unity, prayer and worship, although seems a little less concrete to me as to how exactly the stated goal of reaching 100 million Europeans will be realised. From the website, it was not clear who is involved, although it appears to be both charismatic/pentecostal and open to the whole Christian spectrum.
Any Europe-focused event or programme aiming to promote the gospel and unity deserves our support. Such initiatives will challenge and envision potential young evangelists and missionaries.
Patience
Yet we do well to heed Stuart Murray's cautionary words about 'hoping and praying passionately for revival'. In A Vast Minority (2015), Murray suggests 'praying for revival is not helpful if we are hoping for a return to Christendom or evading the challenge of learning how to live and thrive in post-Christendom'. His book calls for the European church to recognise we cannot return to the privileged and dominant position of the past. We need to learn to embrace our situation of exile in a secularised society, as Jeremiah urged the Jews to do in Babylon: put roots down, live faithfully and seek the welfare of the city.
I agree. Turning Europe around is not going to happen just through a few stadium events, however necessary they are for challenging and envisioning the next generation. 'Patience is one of the virtues required of an ex-majority community with a dubious heritage struggling for credibility as a minority community', writes Murray. It will take time to gain the trust of a society that has rejected the Christendom version of the Christian faith, he argues.
Murray's next sentence, however, raised a question in my mind: 'It will be some time yet before Western societies realise the extent to which our institutions are bereft of spiritual and moral foundations, our culture has no compelling vision of the future, and post-modern relativism is inadequate for safe-guarding human life and dignity.'
Questions
As this past month we have been recalling the events of thirty years ago, when communism suddenly and unexpectedly collapsed, I wondered, could God be doing something unexpected and sudden again? Over the past four years since Stuart Murray's book appeared, secular voices have begun to express the need for spiritual foundations for society. Last month, LifeSiteNews(4.11.19) ran the heading: Atheists sound the alarm: Decline of Christianity is seriously hurting society. The article read that 'as Christianity fades further and further into our civilization's rear-view mirror, many intelligent atheists are beginning to realize that the Enlightenment may have only achieved success because it wielded influence on a Christian culture'.
Douglas Murray (as far as I know, no relation to Stuart Murray), whose book 'The strange death of Europe' I recently wrote about, now sometimes calls himself a 'Christian atheist'! He is wondering if a society based on Enlightenment values is even possible without Christianity and that we may be forced to recognize that returning to faith is the best option available to us.
Uncannily, this echoes the next sentence Stuart Murray wrote, following the last one quoted above: 'It is just possible that the search for a new consensus on which to build a sustainable culture might include a fresh look at the Christian story.'
So, heeding Stuart Murray's warning against triumphalistic expectations and his encouragement to learn to live as creative minorities as 'aliens and strangers', let us ready ourselves to answer the questions disillusioned secularists are beginning to ask about what the Christian story has to offer tomorrow's Europe.
If you are a student, then Revive Europe would be a great start! See you there?