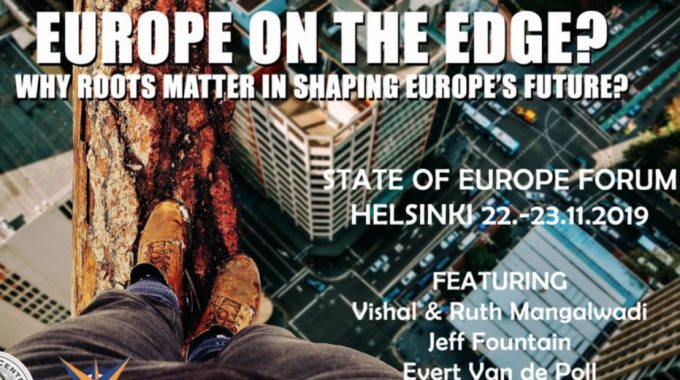 Is Europe really on the edge? President Macron seems to think so.
He recently warned his fellow European leaders that NATO was 'brain dead', and if they continued to bury their heads in the sand, Europe (read 'EU') would become less and less significant. Europe, in his strong and outspoken opinion, needed to become much more integrated, politically and economically, if it wanted to rise to the challenges of China, and Russian influence in Europe.
British journalist Douglas Murray does too. His best-selling 2017 account of the influence of migration, low birth rates and loss of traditional faith, The strange death of Europe, laments Europe's suicidal trend. Pursuit of a liberal immigration policy is undermining a liberal society, the book argues. Within our lifespan, he writes, 'Europe will not be Europe and the peoples of Europe will have lost the only place in the world we had to call home'. Europe 'has lost faith in its beliefs, traditions and legitimacy… The world is coming to Europe at precisely the moment that Europe has lost sight of what it is.' 'While the movement of millions of people from other cultures into a strong and assertive culture might have worked, the movement of millions of people into a guilty, jaded and dying culture cannot.'
Incomplete?
Praised by the right, Murray's treatment of the failure of multi-culturalism is branded by the left as 'gentrified xenophobia', and an incomplete picture of Europe in which fear trumps analysis. What is not disputed, however, is that European society is in a more precarious, polarised situation today than thirty years ago when communism imploded and expectations rode high that the liberal, secular, democratic state would become the obvious choice for all nations. To the surprise and bewilderment of many, authoritarian rule has grasped the reins and the rule of law has been weakened in a number of nations, even within the EU. Nationalistic, populist movements have emerged in many places, and Murray asks why.
Losing faith in Europe's traditional beliefs has produced a 'guilty, jaded and dying culture', he argues. Why do such roots matter for the future? This is a question we wish to explore at the State of Europe Forum this coming weekend in Helsinki.
Christian leaders from different backgrounds and disciplines will gather to address these issues that Macron, Murray and others are raising. Indian Vishal Mangalwadi and Dutchman Evert Van de Poll, no strangers to Schuman Centre events, will be among the contributors, along with Finnish politicians, including former MEP Eija-Riitta Korhola, Antero Laukkanen, Lasse Heikkilä and Timo Laaninen. Swedish Lutheran pastor Peter Artman and Hungarian diplomat Peter Danku are among others adding to the multi-national programme.
Since 2011, the SOEF has been held in the capital of the country holding the EU presidency around Europe Day, May 9. However, several Schuman associates living in Finland proposed to hold this 'one-off' forum during Finland's EU presidency in the second half of this year. Tapio Luoma-Aho, along with Cedric and Elina Placentino, saw the opportunity as too good to miss to raise awareness in the Nordic region of the largely Christian origins of the European movement, and of ongoing Christian responsibility towards the shaping of Europe's future.
Balance
Main events include a public evening this coming Friday at which Vishal will ask: 'Can these European bones live again?', followed by a panel discussion in Helsinki's historic old church, Vanha kirkko. The full-day forum will be held on Saturday at the Mission Church (Lähetyskirkko).
Evert, a professor at the Evangelical Theological Faculty in Leuven, will offer a balancing perspective on Europe to the forum, as recently posted on the Schuman Centre website. He proposes ten reasons why Europe is still a major world player, including
• its economic clout;
• its global political influence;
• its unique social model, considered as an example to follow in the modern world;
• its global reach culturally of music, arts, food, literature and sports;
• its languages are world languages: English, Spanish, French, Portuguese and Russian;
• its influence in education, science and technology – attracting twice as many foreign students as the United States;
• its attraction for immigrants and refugees who dream of better living conditions and a brighter future;
• its leading contribution to development aid in the world. Europeans are usually the first on the scene of disasters with medical teams, food distribution and shelter for refugees;
• its appeal as the top tourist destination in the world, not in the least because of its rich Christian and cultural heritage such as cathedrals, monasteries, museums filled with biblically inspired art and concerts of sacred music;
• its major role in world Christianity and global mission, despite no longer being the centre of gravity of world Christianity, nor of the global mission enterprise.
Register here to join us in Helsinki for this timely event.
Jeff Fountain
Director Schuman Centre
For more weekly words from Jeff, visit weeklyword.eu.