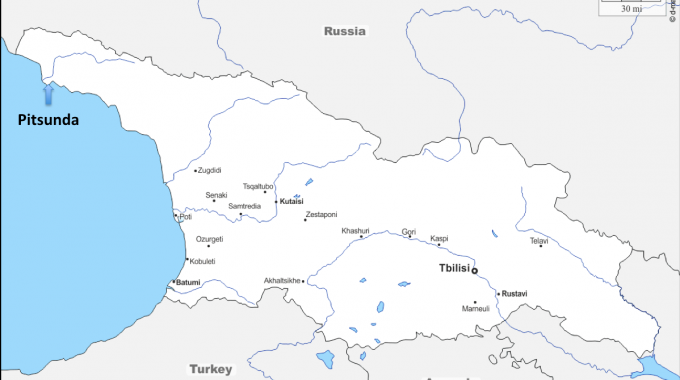 A European Journey #37 – Pitsunda (Georgia)
2.

A European Journey #37 – Pitsunda (Georgia)
Today we will continue our miniseries exploring the history of the Orthodox Church.
We will visit Pitsunda, a resort town at the shore of the Black Sea in Georgia, just south of a mountain range called Agaraki, in the region of Abkhazia.
A quick walk through the town leads us past many buildings that were built in the Communist era. In Soviet times, this was, in fact, one of the most popular holiday destinations for Russians.
But in the midst of Communist buildings, there is also a more ancient sight to visit. It is St. Andrew's cathedral, which was built in the tenth century AD. Its architecture is very typical for Caucasian churches. It has the shape of a cross with a circular dome at the centre and three semicircular apses. The walls have alternating rows of bricks and stones which gives the cathedral a particular set of colours.
The church belongs to the Georgian Orthodox Church, which is an autocephalous church. While it is in full communion with Constantinople and the main Orthodox churches, it has been independent since the council of Chalcedon.
So what does this cathedral reveal about the history of the Orthodox Church?
Inside the cathedral there is actually a tomb under the altar. The tomb is empty now but, unlike with the tomb of Jesus, this is not because the person buried here resurrected. Here lay one of the most important theologians and church fathers of all times, John Chrysostom. John Chrysostom is considered a trustworthy theologian by the vast majority of church denominations to this day.
So who was he and which legacy did he leave to the Orthodox church?
John Chrysostom was born in Antioch in 347 AD. This city, which is presently located in Turkey, near the borders with Syria and Lebanon, was one of the main centres of early Christianity. John was probably from a good family, as he was able to study rhetoric and literature. This was probably what led him to have a career as a public speaker.
Later on he studied theology and divinity, and was finally ordained in the church, first as a deacon and then as a presbyter. With his training in public speaking, he began to preach and his noticeable talent granted him the title'John Chrysostom' which is simply Greek for 'John the Golden Mouth'.
His fame quickly spread outside Antioch. And as we saw last week, this was also the time when Byzantium was growing in importance. It was given the name New Rome and later Constantinople when it became the new capital of the Roman Empire, just before the birth of John Chrysostom.
Later on, John Chrysostom was invited to move to Constantinople to take on the role of Archbishop. This was a position of high importance due to the fact that the bishop of Constantinople had recently been given higher honour in the universal church in the Council of Constantinople. Thus when he accepted the role, John Chrysostom became the second highest church official on earth. Many could have become proud with such a role, but this did not happen with John Chrysostom. Instead, he stayed committed to preach the truth, whatever the cost.
Chrysostom emphasised care for the poor ('do not ignore him when he is naked'), a message that was counter current in a city growing in wealth. He not only preached mercy but also practiced it by building hospitals in Constantinople.
Nevertheless, his message also attracted opponents. His preaching greatly disturbed the wife of the Emperor Valentinian III, Licinia Eudoxia, who was drawn by a lifestyle of wealth and luxury. These conflicting worldviews finally led to the banishment of John Chrysostom, who had to flee from Constantinople, never to return.
After that, John Chrysostom wandered towards the East and finally died near the town of Pitsunda in 407. Here he was buried and the church we see today was built on this site several centuries later. But as I said the tomb is practically empty today (apart from some of Chrysostom's body parts). The reason for this is that his relics were later transferred to Constantinople, the city he had been banished from.
Although he had been greatly opposed during his ministry in Constantinople, John Chrysostom's life and works of mercy became a source of inspiration for later generations in Eastern Orthodox lands and even beyond. Later on his homilies even became foundational to the liturgy of the Orthodox Church.
Let me finish by quoting the first sentences of his Paschal Homily, which is still read aloud on Easter morning in the Eastern Orthodox Churches:
If anyone is devout and a lover of God, let them enjoy this beautiful and radiant festival.
If anyone is a grateful servant, let them, rejoicing, enter into the joy of his Lord.
If anyone has wearied themselves in fasting, let them now receive recompense.
See you next week somewhere else in Europe.
Cédric Placentino
Schuman Centre convener for Italian and French Europe
Follow A European Journey here.