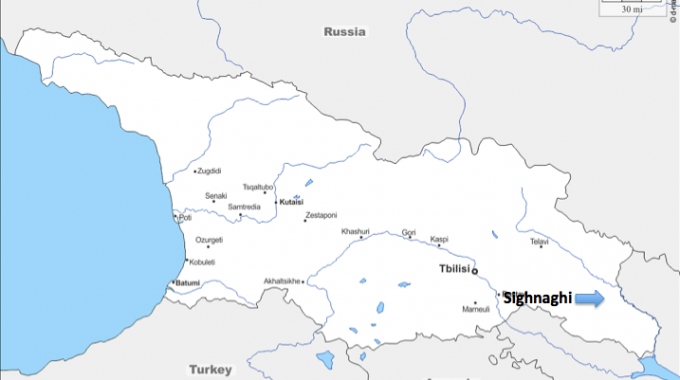 A European Journey #3 – Sighnaghi (Georgia)
1.

A European Journey #3 – Sighnaghi (Georgia)
Nino and the conversion of the Georgians
After visiting Italy and Switzerland, today we will travel nearly 4000 km to the East of Europe to Georgia. Since Georgia was one of the first nations to become officially Christian (together with the neighbouring Armenia), there would be much to tell.
It is believed that the Jews had been in Georgia already before their exile to Babylon. Some also believe that two of the Apostles, namely Simon the Zealot and Andrew came here. Even Mary the mother of Jesus is claimed to have preached the Gospel here. However, there is no evidence for these claims.
The earliest evidence of a Christian in these lands is the person I will introduce to you today. For this purpose we will travel to a small town called Sighnaghi, 100 km East of the present-day capital Tbilisi. For those like myself who love biking, it might be interesting to know that there is a 5 km climb (with some sections in cobblestones!) to reach the village. And actually, we won't even stop in the village but will keep going up until the very top of the hill where the Bobde monastery is situated.
This place is known to all Georgians. And here is why: this monastery was founded by a lady called Nino (or Nina) in the 4thcentury. She is celebrated on the 14thof January in the Georgian liturgical calendar. But who was she? While the accounts are not all historically verifiable, what I will share is broadly believed to be true in Georgia.
Nino was born in a town called Colastri in Cappadocia (the Eastern part of modern-day Turkey). She was the only child of a Christian family and her story may remind you of the story of Samuel. Like the prophet, her parents also consecrated her by a vow, and she was raised by the keeper of the temple of the town, a lady named Sarah Bethlehemlianka.
Later she travelled to Rome and it was probably on that journey that she decided to go to Iberia to preach the Gospel there. Iberia is not to be confused with present-day Spain. It was in fact the name of what is roughly today Georgia. Her decision was then confirmed by heavenly visions of the nation.
She entered Georgia from the Javakheti mountains where she planted a cross. You can imagine the statement she was making with this act! She then continued her journey through the villages of Akhalkalaki and Urbnisi where she preached the Gospel and saw many people coming to faith in Christ.
From here she continued to the capital of the Kingdom of Iberia, which was not Tbilisi at the time but Mtzkhetha. Here a festival was being held for the Persian gods Armaz and Zaden. After she had prayed, she saw a fierce storm break out, accompanied by unusual hailstones. Three days later, she had the possibility to preach to an attentive crowd.
Nino was also known for her gift of healing. When the wife of the king's gardener was healed through her prayers, she became well-known in the court of Iberia. In fact, Queen Sadka (or Sophia) had been severely ill for years, and king Mirian III had lost his sight while hunting. But when Nino prayed for them, they were both healed. These miracles led the court to faith in Jesus. This eventually led the king to declare that Christianity would be the official religion of the kingdom of Iberia.
After her successful ministry in Mtzkhetha, Nino withdrew right here to the top of the hill. She founded her monastery in this remote area, where she also passed away and is buried. And today, there is still a Christian community of ladies living and worshipping in the Bobde monastery.
Whether these accounts about Nino are all accurate or not, one thing is sure: Nino did come to Georgia, the nation did become a Christian kingdom and its national church has existed ever since. And this is simply a miracle. From a natural point of view, this nation should no longer exist. Georgian history is full of invasions and attempts of annihilation.
The Mongols who killed 300.000 Georgians did not succeed in utterly wiping out the nation. Neither did the Persians succeed in imposing Islam. Even the Soviet Union as a more recent example, could not replace the Christian faith with atheism. Still today Georgia faces external threats (e.g. Russian aggression in 2008), but also internal threats (e.g. widespread corruption).
Nevertheless Jesus said that the gates of hell would never prevail against the church (Matthew 16:18). Could it be that the church and the nation of Georgia have survived because God has kept his promise?
See you next week somewhere else in Europe.
Cédric Placentino
Schuman Centre convener for Italian and French Europe
Follow A European Journey here.
Map: https://d-maps.com/index.php?lang=en