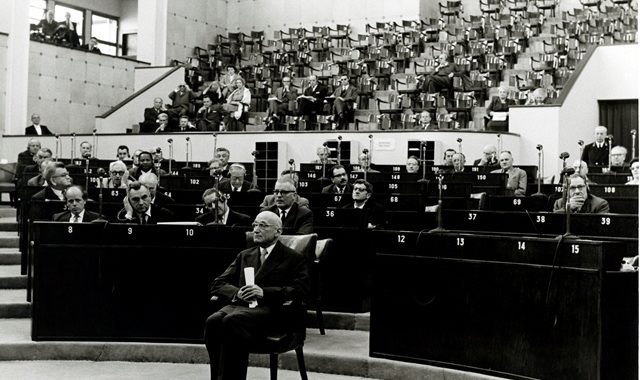 The Forgotten roots of the European Union (Part II)
We publish today the second part of the introduction of the book Deeply Rooted by Jeff Fountain. Click here to read the first part. For more information or order, click here.
Faced with the challenge of the reconstruction of a Europe torn apart by rival ideologies, Schuman was outspoken about his conviction that such reconstruction was only possible in a Europe 'deeply rooted in Christian basic values'.
This conviction was shared by his German and Italian colleagues, Konrad Adenauer and Alcide De Gasperi. Fellow Catholics, they were, in the words of Adenauer, 'filled with the desire to build the new edifice of Europe on Christian foundations'. Adenauer believed the task 'not only a political and economic aim worth striving for, but as a real Christian obligation'.
Despite these convictions of the founding fathers, the chairman of the convention concerning the proposed constitution, Frenchman Valery Giscard d'Estaing, rejected any reference to God and Christianity because of possible 'violation of freedom of conscience'.
The double irony is that it was Luther ('Here I stand, I can do no other') who established this great European principle, freedom of conscience, on the basis of God's Word.
Yet it is not only secular, pragmatic voices who have encouraged ignorance and indifference towards this story of 'rebuilding on Christian foundations'. My own evangelical constituency has long displayed indifference, suspicion and outright antagonism towards 'the European project'–with a few notable exceptions.
Once more, the story of Schuman gives us an opportunity to pause and reflect on the reasons for evangelical reactions towards 'Europe', and to ask if such attitudes are biblically-based.
Growing up in a Baptist church on the other side of the world did not shield me from such attitudes. Illustrated talks on biblical prophecy left no doubt that we should expect the revival of the Roman empire, represented in the book of Revelation by the ten-headed beast, in the form of the European Community. The six original members became nine and then – as warned – the tenth member was finally admitted to round off the picture! Unfortunately for this scenario, the ten became twelve, fifteen, and then twenty-five, twenty-seven… and we're still counting.
Protestant suspicion of initiatives by Catholics also fed ignorance and indifference towards 'Europe' the further north one went. And for good historical reason, we were told. Political and religious freedoms won at high cost in Holland, Scotland, England, Switzerland, Germany and the Nordic countries should not be surrendered lightly to the latest seductive strategy concocted by the 'whore of Rome', the argument went.
Protestants and Catholics still agree to disagree on certain issues, but the climate of acceptance and cooperation has warmed in recent years to the point that some even ask, 'Is the Reformation over?' Pope Benedict XVI declared in his weekly public audience in St Peters Square that Luther had been right to talk about justification by faith alone. This was not a new declaration, but a corollary of the agreement in Augsburg, October 31, 1999, between Lutheran and Catholic leaders on the doctrine of justification. Benedict XVI, then as Cardinal Ratzinger, personally played a decisive role in this agreement.
In an increasingly secularised Europe, many Protestants and Catholics have come to recognise that their commonalities are greater than their differences. Cardinal Walter Kasper, former president of the Pontifical Council for Promoting Christian Unity, has declared that while the Word of God has divided Protestants and Catholics, the Word of God must now unite them.
German Christians of both persuasions had come to this realisation during the war through their common persecution by and resistance to the Nazi regime. This enabled the Christian Democratic movement to emerge as a key factor in post-war reconstruction.
Other Protestants still object, however, that 'Europe', represented by 'Brussels', is a regrettable exercise in centralisation of power, despite lip-service to 'subsidiarity' (i.e. the principle of pushing decision-making to the lowest appropriate levels). As Lord Acton famously warned, all power corrupts and absolute power corrupts absolutely. Decentralisation is therefore the answer, we're told, as is modelled by many Protestant forms of church government where authority is mainly exercised at the local level.
However, in an age when politicians and business leaders are constantly conferring to shape Europe's future, when media and sports officials from many nations partner to deliver Champions League matches to our living rooms, and Mafiosi and terrorists cooperate effectively across national borders, evangelicals have all too often been side-lined as non-players by a 'small-shopkeeper' mentality.
Decentralisation is a recipe for diversity. But there is also a legitimate need for broader solidarity and unity–with diversity.
But what about the influence of secular and godless humanism and other -isms in EU directives on equal treatment, homosexuality, same-sex marriage and other social issues, enforcing non-biblical values throughout Europe?
This treatment of the Robert Schuman story is not an endorsement of all that the European Union has become. On the contrary, by retelling this story, we are raising the questions, Whatever happened to the founding vision and values of the European project? Who hijacked Europe? And, who allowed Europe to be hijacked?
Sometimes I am asked by concerned Christians if I believed Europe would become the Beast. I reply, 'definitely : if Christians who are commissioned to be light and salt in the world remain disengaged on the sidelines and only active in their own church circles.' If Europe becomes a greedy, godless, selfish Beast, it is not because God has destined that or willed that, but because His people have been disobedient and ineffective, sniping from the sidelines. Such predictions can become self-fulfilling prophecies.
Jeff Fountain