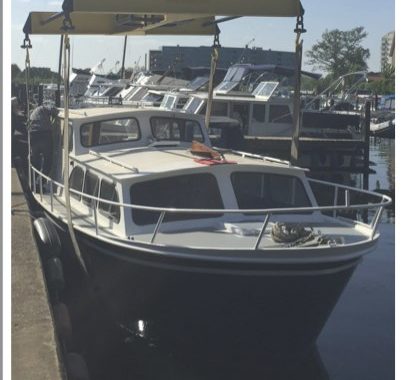 After the more serious reflections of the past few weeks, its time for a personal story–about the new Schuman Centre mobile office.
As my sixty-fifth birthday approached last September, my wife Romkje said she needed to confess to scheming together with our boys since the previous March. Knowing that what I missed most about New Zealand was the boating I had enjoyed growing up with on the other side of the world, they had wanted to buy me a boat.
When I was small, my father had a sailing dinghy (that strange word came into the English language from India, meaning a small rowing boat used on the rivers). A small open motor boat had followed, followed by a 5-metre cabin cruiser, then a larger one suitable for crossing the open waters to Great Barrier Island where our family went each year for summer conventions.
I have many happy memories from those years of enjoying the boating paradise in the waters around Auckland, the 'City of Sails'. For years I crewed in sailing races on a friend's 10-metre keel boat. Boating has continued in my family. My brothers and sister and their families all own and enjoy boats of various sizes.
An advertisement in a magazine for a small boat had caught Romkje's eye. She was surprised what you could buy for the price of a small second-hand family car.
For months she and the boys had surfed the internet to find something they thought I would like. They wanted to take me to a harbour and say: 'Surprise!'
But, they thought, maybe I wouldn't like their choice. So reluctantly they had to let me in on their plot.
Relational
Needless to say, I was caught totally by surprise. Firstly, where did my wife get money from to buy a boat? Ah, she explained, it was a small secret legacy she had inherited from a friend with instructions to be used for personal ends only.
Secondly, I thought, would a boat fit into my lifestyle, with much travelling and engagements outside of the country? I thought of the heritage tours we lead each summer, and the week-long summer masterclass in European studies.
But when I saw how enthusiastic my boys were at the idea of a family boat, I realised how much I would love to give them and their families the sort of boating legacy with which I was raised.
Then I thought maybe this was the sort of encouragement I needed to take time with Romkje for relaxing vacations on Holland's many waterways, After all, it was my sixty-fifth birthday she was wanting to honour!
And I knew from my own family's experience how relational a boat is–all together in a small space for long periods, a great environment for conversation and fun together with family, friends and new acquaintances.
Office
What clinched the deal for me was the sudden thought that a boat was an ideal place to go to write! At this stage of life, writing has become a greater priority for me. I have a list of book projects I need to work on. Here would be a place away from the office and many interruptions–a mobile office in fact!
I quickly made a wish list for a suitable boat–child-friendly, spacious enough for others to come on board, and so on. Within a week I had located a motorcruiser matching my wish list–only the price was rather high. Romkje and I met the owner and sailed with him for a test ride. She told him how much money she had and why she wanted to buy it. The owner said he liked her story and our faces(!) and accepted her offer.
A three-day trip brought the boat to a harbour in Zwartsluis, closer to our home. I asked a handyman friend for advice about some small alterations. To my great surprise, he came back with an offer to completely renovate the boat with two of his friends, including building a special trailer to transport the steel boat to and from a farmer's shed: pro Deo!
Four month's of work by these three 'angels' culminated this weekend in the launching of MANU II, named after my father's boat (Maori for 'bird', and short for Emanuel).
With balloons tied to the bow, we celebrated Romkje's birthday on board on Saturday with children and grandchildren. We hope MANU II will be a blessing for many–perhaps yourself included.
Till next week,
 Jeff Fountain