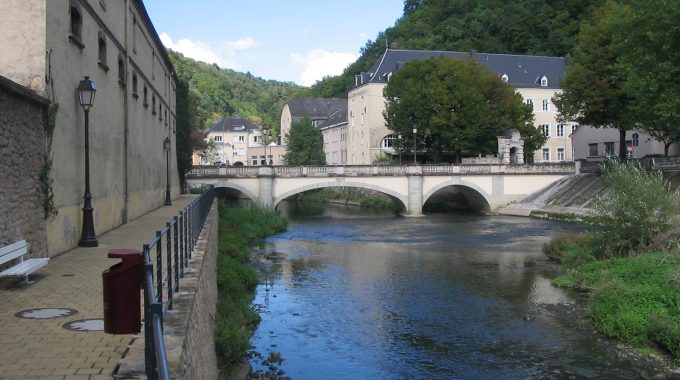 A European Journey #66 – Clausen (Luxembourg)
1.

A European Journey #66 – Clausen (Luxembourg)
The ninth of May 2020 will celebrate the seventieth anniversary of the Schuman Declaration that gave birth to what is known as the European Union today. But what does the European Union have to do with Christianity?
There are those who depict the European Union as an evil project. This view seems particularly widespread within Christian circles. While there can be very good reasons to believe this, few Christians actually know that the European project has deep Christian roots. So during the next five stages, we will explore some locations which will help us uncover these forgotten roots.
For this first stage we will visit Clausen, which is a suburb of Luxembourg City, the capital of the Grand Duchy of Luxembourg. The name Clausen is derived from the Latin claustra, which means cloister. This name is a reminder that the area belonged to a Benedictine abbey until the French Revolution. Clausen lies on the right bank of the river Alzette, which separates the suburb from the old town of Luxembourg. On the right bank of the Alzette a street called Rue Jules Wilhelm climbs one of the many hills surrounding the river. A few hundred metres further along the street we discover a pale pink house with a turret.
This house hosts the Centre d'études et de recherches européennes Robert Schuman (Centre of European Studies and Research Robert Schuman) or CERE. By the way, this centre is not to be confused with the Schuman Centre for European Studies, which is directed by Jeff Fountain. The CERE focuses on the role of Luxembourg in the European Union and on the career of a man named Robert Schuman. He is actually the reason we are visiting this house, which is the house of his birth. But who was he?
Robert Schuman was the former French minister of Foreign Affairs and he is officially recognised to be the Father of Europe. This is because he was the main architect of what was once called the European Community. In this stage we will look into his early life and focus on four points that influenced his life and career in a profound way.
Firstly, Robert Schuman was born in 1886 and he grew up as the only son of a cross-cultural family. His father, Jean-Pierre, was from Lorraine. This is the region of France bordering the Grand Duchy of Luxembourg in the South. Although Jean-Pierre was French, he became German when Lorraine was annexed by Germany in 1871. Robert's mother, Eugénie Duren, who was twenty-seven years younger than her husband, was from Luxembourg and also had family members in Belgium. As a child, Schuman attended primary and secondary schools in Luxembourg. And as every child in this country, Robert learned both French and German at school. Moreover, he probably knew Luxembourgish as well, a language that was not yet official at the time. So, in a time when France and Germany were frequently at war with each other, Robert Schuman grew up understanding both sides.
Secondly, Robert Schuman was raised in a Roman Catholic family. From a very young age, he understood that being a Christian meant living with values such as honesty and integrity. There is actually an interesting story that his friends told about his school years here in Clausen. One day when he was only six years old, one of his classmates tried to cheat by copying his answers in an exam. Little Robert noticed what his friend was doing and, turning toward him, said: "I can't stop you from copying from me. But let me remind you that this is a sin and that one day God will ask you why you have done it."This hatred toward corruption and treachery was also a strong characteristic of his political career.
Thirdly, Robert Schuman was marked by some painful events in his youth. Shortly after having moved to the border between Luxembourg and Lorraine, Jean-Pierre Schuman died when Robert was only fourteen. After his father's death, Robert and Eugénie developed an even deeper relationship. But ten years later his mother suddenly died in an accident. This tragedy obviously left a deep mark in Robert's life.
And finally, from an early age Robert Schuman understood that his Christian faith was supposed to be applied in the public arena. After completing the lyceum in Metz, he studied law in Germany and became very active in a Catholic student organisation which was engaged in society. Soon after his graduation, Robert Schuman opened a law cabinet in Metz. But the death of his mother brought him to a moment of crisis. Robert Schuman seriously considered leaving his professional life and becoming a monk.
However, as history will tell us, Robert Schuman didn't become a monk but a politician. What caused him to reconsider his plans? We will need to travel to another location to find the answer to this question.
In the meantime, it is quite remarkable to realise that if we continue to climb the Rue Jules Wilhelm from the Robert Schuman House, we actually reach the Kirchberg Plateau, where several European institutions are located. As we'll discover in another stage, their existence is the direct fruit of Robert Schuman's decision to serve God in politics.
See you next week somewhere else in Europe.
Cédric Placentino
Schuman Centre convener for Italian and French Europe
Follow A European Journey here.
Picture: Wikipedia – user: Martin Röll Martinroell – License: https://creativecommons.org/licenses/by-sa/2.0/de/deed.en