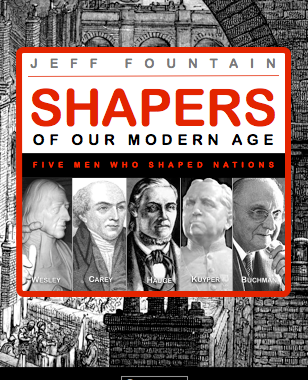 Shapers of our modern age
The Industrial Revolution marked a shift in Europe. Once centred around the church and the monastery, life was now revolving around the mills and the factories. In this booklet you will discover six biographies of five men who shaped Europe in this new context: John Wesley, William Carey, Hans Nielsen Hauge, Abraham Kuyper and Frank Buchman.
About the author
Jeff Fountain is the initiator of the Schuman Centre, and after over 40 years living in the Dutch countryside moved in December 2017 to Amsterdam. Jeff was YWAM Europe director for 20 years, 1990-2009. Jeff chaired the annual Hope for Europe Round Table until 2015. Jeff is author of Living as People of Hope, Deeply Rooted and other titles, and also writes weekly word, a weekly column on issues relating to Europe. 
Orders
available at readontime.online