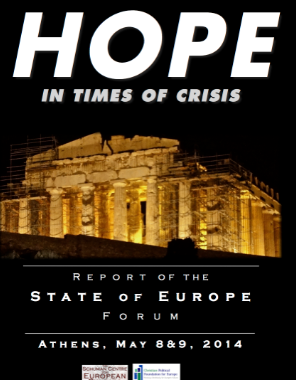 The texts and records of the addresses and sessions of the 2014 STATE OF EUROPE FORUM held in Athens, Greece, May 8 & 9, including those by Piotr Mazurkiewicz (Poland), Petros Vassiliadis (Greece), Michael Schluter (Britain), George Adam (Greece), Jeff Fountain (Netherlands), Jonathan Chaplin (Britain), and others. Also includes the Athens Affirmation.
(114 pages)
About the author
The State of Europe Forum is a yearly event held in the capital of the nation holding the presidency of the Council of the European Union. It aims to evaluate Europe today in the light of the vision of EU Founding Father, Robert Schuman, for Europe as a 'community of peoples deeply rooted in Christian values': equality, freedom, solidarity and peace. The forum is open for politicians, church leaders, civic leaders, educators, academics, media specialists, activists, and all concerned with the future of Europe. It aims to result in an action agenda for politicians, voters, churches, organisations and individuals.
Orders
Available via Schuman Resources at 10 € incl. postage within Europe.
Order via email to: <info@schumancentre.eu>, stating name, address, and quantity of books. 
Payment instructions sent on return email.
Also available on readontime.online