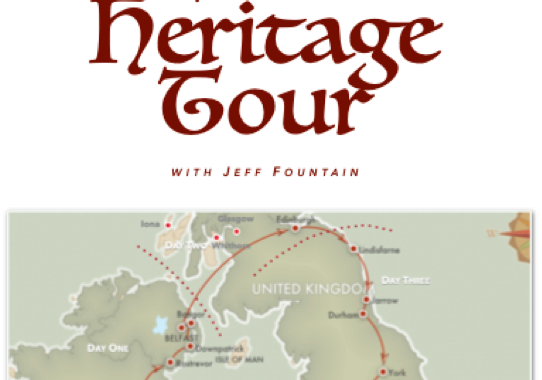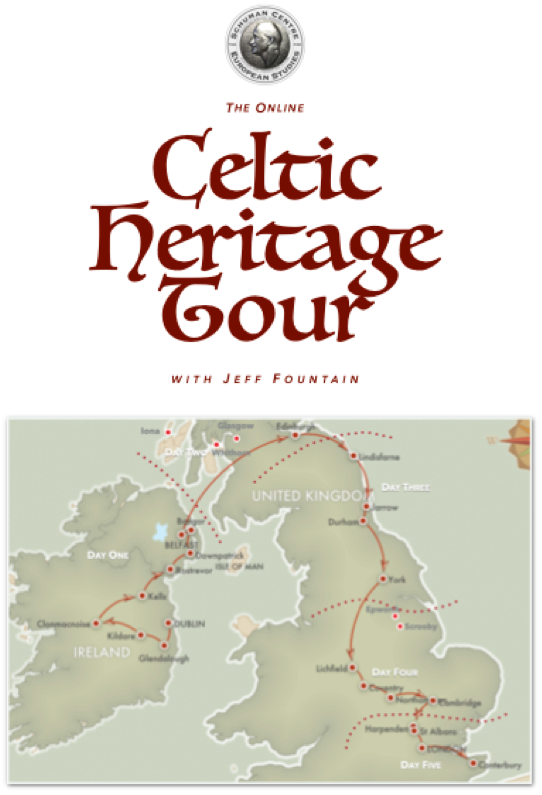 Join the 

Online CELTIC HERITAGE TOUR 2021 (from 1st to 5th February, 2021

).
Each day for two hours, we will 'travel' through part of the British Isles following the transforming sweep of the Gospel as introduced by Celtic missionaries.
We start the tour in Dublin, where we visit Trinity College Library to see the Book of Kells. We then drive south of the city to Glendalough, former Celtic monastery; and to other ancient Celtic sites, Christian and pagan, including Newgrange, Clonmacnoise, Clonfert, Kildare, Kells, among others. Heading north towards the Northern Ireland border, we visit Downpatrick where Patrick first returned to Ireland as a missionary, and is also buried. We also visit Bangor,  the community from where Columbanus left on his journeys across the continent.
From Bangor, we follow Columba to 

Iona

 in Scotland, while in 

Edinburgh 

we walk the Royal Mile from

 the castle to the John Knox House covering many centuries of 

history with global impact. Next we head off towards 

Lindisfarne on the north-east coast of England, a major Irish Celtic missionary community founded by St Aidan out of Iona, and the springboard for evangelising the English. The Vikings first raided England at Lindisfarne in 793. 
Jarrow,

 where the Venerable Bede lived and worked,  

Durham

 with its famous cathedral, and then historic 

York

, where Constantine was posted when he was declared Roman emperor are the following day's encounters, before heading further south to John Wesley's family home in 

Epworth

, and places connected to the Pilgrim fathers and early Baptists.

 Lichfield in the Midlands, burial place of St Chad, Coventry cathedral, William Carey's hometown of Moulton, and  Cambridge

 university bridge the gap from the Celts (St Chad) to 

the English Reformation and modern missions (Carey). St Albans, named after the first British martyr,  London city (Wesley, Booth and others) and Canterbury

, finish off the tour.
Times: 18:00-20:00 (UK); 19:00-21:00 (CET); 20:00-22:00 (EET), February 1-5, 2021
This online tour is open to all interested, and is an optional module for students enrolled in ForMission College master programme, Missional Leadership and European Studies.
Costs for non-students is €75, including a 68-page photo guidebook (pdf) and the e-reader by Jeff Fountain, From the Fringes. Students will also receive an academic study manual to be read prior to the tour.
An online CONTINENTAL HERITAGE TOUR will be held from 1st to 5th March, 2021, the sequel to the Celtic tour.