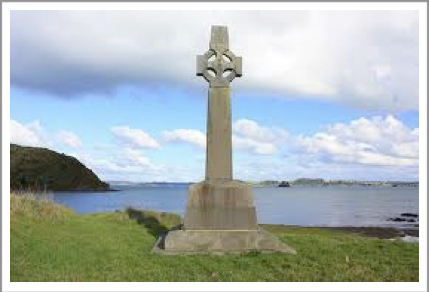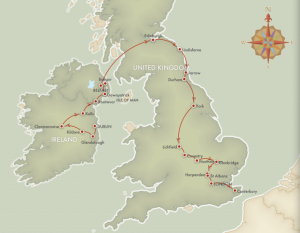 !!Join the Virtual Celtic Heritage Tour 2020 (from 3rd to 7th of August) – More information here!!
We start the tour in Dublin, where we plan to visit Trinity College Library to see the Book of Kells. We then drive south of the city to Glendalough, former Celtic monastery; and to other ancient Celtic sites, Christian and pagan, including Newgrange, Kells, and some others.
Heading north towards the Northern Ireland border, we stay at Dundalk, before visiting Downpatrick the next day, where Patrick first returned to Ireland as a missionary, and is also buried. We plan to visit Bangor, the community from where Columbanus left on his journeys across the continent.
From Bangor, we fly from Belfast City Airport to Edinburgh. 
In Edinburgh, we are taken on a tour of the Royal Mile from the castle to the John Knox House. We then pick up other vehicles and head off towards Lindisfarne on the north-east coast of England. This was a major Irish Celtic missionary commmunity established by St Aidan and used as a springboard for evangelising the north of England. The Vikings first raided England at Lindisfarne in 793.
From there we drive on to Newcastle for our overnight stay, close to Jarrow where the Venerable Bede lived and worked. We visit Durham with its famous cathedral, and then drive to historic York, where Constantine was posted when he was declared Roman emperor. We spend the next day south of York visiting John Wesley's family home in Epworth, and places connected to the Pilgrim fathers and early Baptists, including Lincoln, staying overnight near Nottingham.
The next day we drive on to Repton, Burton upon Trent and Lichfield in the Midlands, burial place of St Chad, Coventry and visit the cathedral there, staying at King's Lodge (YWAM), Nuneaton. The following day, the 9th, we drive to Cambridge for a tour of the university town, before driving to Harpenden, the YWAM centre, where we will stay for the next three nights.
This is our base for visiting London city (Wesley, Booth and others), St Albans and Canterbury, where we finish the tour
!!Join the Virtual Celtic Heritage Tour 2020 (from 3rd to 7th of August) – More information here!!
Next planned trip: July 2021
Estimated costs: €1500 (excluding Belfast-Edinburgh flight) 
As an example, you can find below the itinerary of the 2018 Celtic Heritage Tour: (double click to enlarge).