Why the 'Schuman' Centre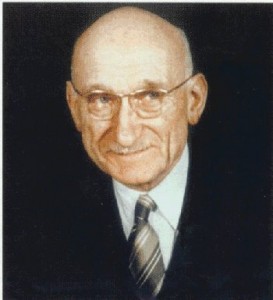 On May 9, 1950, Robert Schuman, the French Foreign Minister, proposed to his German colleague, Konrad Adenauer, that their two nations should together form a European Coal and Steel Community, inviting other European nations to join them in placing their coal and steel industries under a shared sovereign authority.
The purpose was to consolidate post-war reconciliation and to prevent the emergence of any future war machine driven by those industries.
This was a first bold step towards today's European Union. Robert Schuman is therefore considered the 'father' of today's EU.
Yet Schuman's vision for Europe was of a 'community of peoples' deeply rooted in Christian values. In his correspondence with Adenauer, these two devout believers spoke of the providential opportunity they had been given to rebuild Europe on Christian foundations.
These origins of this great political experiment that has irreversibly changed the lives of Europeans have been forgotten in secularised accounts of EU history. In recent years, Schuman's fellow patriots resisted mention of Christian roots in the proposed EU constitution, in the name of laicité, a uniquely French approach to the separation of church and state. [See video on the Schuman Declaration]
The Schuman Centre for European Studies aims to promote the 'original vision' for this 'community of peoples', demonstrating that it represents an authentic extension of Europe's past, a viable foundation for Europe's future, and a credible framework for engaging the challenges of the present.
'Europe' however is much broader than the current membership of the European Union. For the purposes of this centre, Europe is defined as those countries east of the Atlantic, north of Africa and west of the Ural Mountains, including Georgia and Armenia.
The Schuman Centre for European Studies aims:
to promote biblical perspectives on Europe's past, present and future, informing effective social, cultural and spiritual engagement towards a 'community of peoples deeply rooted in Christian basic values'.
The Schuman Centre is a virtual, interdisciplinary centre with a growing network of associates in, for example, the Netherlands, Belgium, Romania, Finland and Latvia.
The centre seeks to work with institutions with common interests, and has relational links with:
The SC interfaces with the academic, not-for-profit and missions worlds.
The SCHUMAN CENTRE FOR EUROPEAN STUDIES should not be confused with the following institutions:
• Fondation Robert Schuman/The Robert Schuman Foundation, founded in 1991 after the fall of the Berlin Wall, is established in Paris and Brussels, to promote European values and ideals both within the Union's frontiers as well as beyond. The Foundation, which is a reference research centre, develops studies on the European Union and its policies promoting the content of these in France, Europe and elsewhere in the world. See www.robert-schuman.eu
•The Robert Schuman Centre for Advanced Studies (RSCAS) is devoted to inter-disciplinary, comparative, and policy research on the major issues on the European integration process. The RSCAS was set up in 1992 as a centre of the European University Institute in San Domenico di Fiesole (FI), Italy, to develop inter-disciplinary and comparative research and to promote work on the major issues facing the process of integration and European society. See www.eui.eu/DepartmentsAndCentres/RobertSchumanCentre/ Index.aspx
• The Robert Schuman Centre for European Studies and Research/Center d'Etudes et de Recherches Européennes Robert Schuman (CERE), based in Luxembourg, was founded in 1990 to promote knowledge of the history of European unification. See www.cere.etat.lu
• Centre for European Studies is a Brussels-based think tank committed to promoting intellectual liberty, raising awareness and facilitating the growth of EU politics from the perspective of the ideologies and the central values of the European Peoples Party (EPP) and its centre-right partners. See www.thinkingeurope.eu