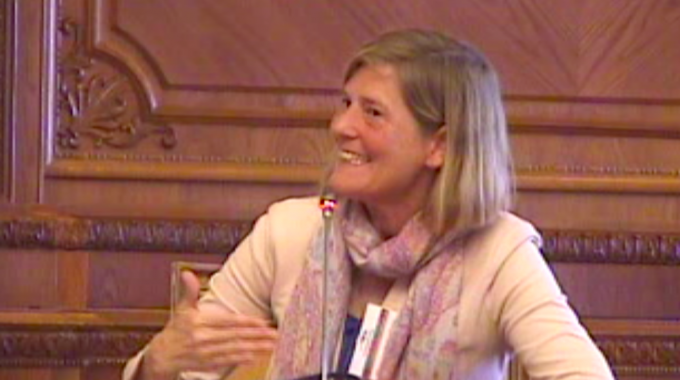 Robert Schuman and Personal Leadership
A speech by Margriet Krijtenburg during the State of Europe Forum 2019 in Bucharest.
Schuman's ideas are topical for the European Union even today. For example, the youth that I am teaching at The Hague University are very open to Schuman's ideas of reconciliation, effective solidarity, and subsidiarity. 
At a certain moment in his life, Robert Schuman had a crucial moment as he was wondering what he had to do. He was already a successful lawyer in Alsace-Lorraine. His mother, who was a Roman Catholic believer, and with whom he had a very close relationship, had just passed away. His father had already passed away a long time earlier. So Schuman was wondering: 'What does God want from me?' Was it priesthood or was it continuing to be a lawyer? Then his friend Henri Eschbachtold him: 'The saints of the future will be saints in suit.'
The annual Schuman International Student Conference gathers more than a hundred participants who have learned the way Schuman thought. They look at today's EU through Schuman's eyes, ask themselves what would he do and propose solutions. The groups write essays and the winning ones are presented and debated, as if they were Schuman. One group focused on the topic of asylum and migration. They made a study of all the treaties of the European Union and came with very original solutions.
The beautiful idea that Schuman had and what it evokes is very much appreciated by the youth. It gives hope and encourages people to show more solidarity, to become more open-minded and to get more understanding towards each other. Since they are students in European studies, they will probably look for jobs at the European Union and will hopefully bring Schuman's ideas in their future profession.
I give a course connected to the core principles of European integration called Personal Leadership. Its goal is to help people become the person they are meant to be. My students, who come from all over the world, often ask me: 'how do I know what kind of person I am meant to be?' I answer by asking: 'What are the good qualities that you would like to see in another person?' The answers are that he would be humble, honest, trustful, patient, and so on. Then I ask my students if one of them was against these qualities? Obviously everybody is in favour even though they all come from different countries. This can be called natural law. So I tell the students that they can build on that. When they still don't know who they are meant to be, I suggest that they pick one of those qualities that they really would like to have and do an examination of conscience everyday. For example, how did it go with my patience today? Why have I been impatient? Because this person didn't do what I wanted him to. When I find the reason, I rectify and I make a resolution for the next day. With this 'simple method' I tell my students that if they make progress, then they would know that this method is not important. But if they don't make progress, then they have made a step forward as they realise how it is difficult to change for the better. Therefore they get a better understanding of other people who also have their battles. If they make progress, then this will benefit themselves and their relatives will become happier. One student was very grateful because he now succeeded in being positive or another one because he became punctual.
This method is like the stone that is thrown in the water which creates ever bigger circles. This was one of the main aspects that Schuman wanted people to focus on: the positive. In every person there is something positive because God is in every person. When we focus on that, a lot of negativity just disappears. After that, when the common ground on which to build is found, people begin to make their 'water circles' and it produces a better society. This is something that I noticed among the youth. It has much more effect than the EU conferences where the talks are somewhat superficial, based on how to solve a particular problem.
When we look from Schuman's perspective, we see things from a deeper view, we can see the roots of the problem. But we won't solve the problem if we don't work on the roots and just stick to the superficial level. Someone who doesn't have any idea of Schuman's thoughts is a bit like a person who does not believe in God. We cannot expect a person who does not believe in God to believe in Him and then look from the point of view of faith, because such a person always looks from a rational and superficial point of view.
This way of working with virtues encourages people to become better. And when people are encouraged to become better, they become also more open to faith. Nowadays there is a lot of ignorance. Many people haven't learnt anything from their parents. This is why I started with these kinds of topics. It works, it is nice and I am grateful for that. This is why I started last year 'Schuman for Kids' with 91 children and this year we will have 156 children. We also have a Schuman for Kids course at the European School of The Hague. Other schools are already showing their interest. Perhaps we can spread it a little bit around. It is just drips but at least it is something.
Margriet Krijtenburg
Master of Conferences at the Academy of European Studies and of Communication Management at The Hague University