Watch this space: Dates and location will be posted when definite.
The Masterclass will probably be similar in content to that planned for 2016, as follows:
THE GOSPEL AND THE MAKING OF EUROPE: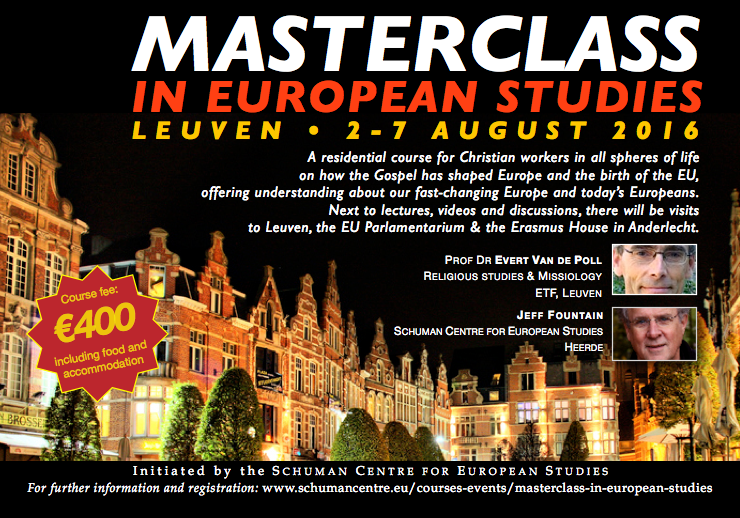 How the Bible shaped the ideas that shape our daily lives
This five-day residential course taught by Prof Dr Evert Van de Poll and Jeff Fountain offers Christian workers in all spheres of life insights on how the Gospel has shaped Europe and the birth of the EU, and practical understanding about our fast-changing Europe and today's Europeans.
Next to lectures, videos and discussions, there will be visits to Leuven, the EU Parlamentarium & the Erasmus House in Anderlecht
The course is sponsored by the Schuman Centre for European Studies.
The course begins Tuesday Aug 1, 6pm with a meal and introductions, and ends Sunday Aug 6 after lunch. (to be confirmed)
---
MORNING LECTURES BY:
Dr Evert Van de Poll, Dept of Religious Studies and Missiology, ETF, Leuven, follows content from his book Europe and the Gospel (De Gruyter/Versita,2013). Part of his lectures cover subjects related to the influence of Christianity and the Bible on the history and cultures of Europe: The idea of 'Europe', European and national identities, Multicultural society and the issue of(Muslims') integration, Christian and other roots of European cultures, The'construction of Europe' and the concerns it raises today. How 'Christian' and how 'post-Christian' is Europe really, and what are typical 'European' barriers and bridges for the communication of the Gospel? Some lectures will be devoted to influence of Christian faith on the birth of the EU.
AFTERNOON/EVENING LECTURES BY:

Jeff Fountain, Schuman Centre, Heerde, offers seven steps towards understanding Europe today, with an overview of the story of 'faithful minorities' who shaped Europe by their faith, and particular reference to the role of Robert Schuman in the founding of the European Union. Participants receive study outlines of each lecture.

---
COURSE FEE: €400, including study resources, meals and accommodation. (€300 without accommodation)
REGISTRATION FOR MASTERCLASS 2017:
---
RECOMMENDED READING
Course participants will receive Dr Van de Poll's manual, Europe and the Gospel:
Jeff Fountain's books, Living as people of hope, and Deeply Rooted:
Other recommended titles:
• Christopher Dawson's Understanding Europe
• Philip Jenkin's God's Continent
• George Wiegel's The Cube and the Cathedral
---